How To Eat Asadero Cheese

23 Mar 2011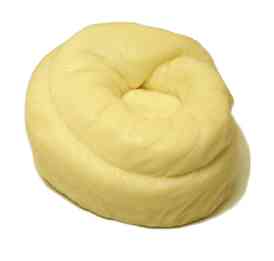 Asadero cheese is made from cow's milk and is often used for melting purposes. It's a Mexican cheese that originated in Chihuahua region of northern Mexico. Semi hard in texture and white in color, the asadero cheese is mild in taste and tangy in flavor, very much similar to mozzarella. One of the interesting facts about this cheese is that it is named differently as per the shape. Various available shapes of asadero cheeses are - ball, circular rounds, bricks and blocks. When the cheese is ball shaped, it is called thread cheese or quesillo Oaxaca. While, it is referred as asadero or queso quesadilla, when it is brick shaped. The word asadero stands for broiler or roaster and its Spanish meaning is baking. There are various ways to eat asadero cheese, let's have a look on them.
Eating asadero cheese, right after taking it out from the refrigerator is very common. It tastes great and one often enjoys eating the cheese in this form.
It is a very popular ingredient of quesadillas. So, one can eat asadero cheese in this delicious preparation, where asadero cheese is melted.   
It is a mild and chewy cheese which is used as a filling in chiles rellenos. A popular Mexican dish, chile con queso is also made from asadero cheese.
Asadero cheese is also used in making dip and is enjoyed eating in this form. Use asadero cheese and prepare queso blanco which forms a great Mexican white cheese dip. This cheese dip is very famous amongst Americans and is available almost in every restaurants of eastern United States.
Enjoy eating this Mexican cheese in tortillas. Slice the cheese and add it directly to the warm tortillas so that the cheese melts easily. You can further add salsa on the top and relish this preparation.
As the cheese melts easily, so it is highly used in making Celerey Root Gratin. In this recipe, gratin is made by using asadero cheese.
The taste of Asadero cheese can be relished in the recipe of Grilled Beef Tenderloin with Chipotle Sauce. Cheese slice is placed over tenderloin, where it melts and the dish is served by pouring sauce on the top of the meat.
In this way, you can enjoy eating asadero cheese in different preparations. It is delicious in taste and makes the recipe tastier in which it is used. So, try the abovementioned method to relish the tangy flavor and mild taste of asadero cheese.   
Image Credit: foodsubs.com
How To Eat Asadero Cheese