How To Eat Kaukauna Cheese?
21 Mar 2011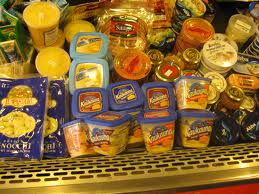 Kaukauna cheese, the name comes from the town of its origin, Kaukauna in the Wisconsin region of the United States, which was first created by Hubert Fassbender in the year 1918, with a unique cold pack process. This technology has made this cheese known well, and comes in various forms like cheese spreads, cheese balls and cheese log or rolls, cheese cups and tubs. This cheese is made and processed by using some of the finest cheddar cheese. They also come in a number of varieties and flavours, while the cheese cups and cheese logs are covered with almonds to give a characteristic flavor. These cheeses are known for the higher level of protein and calcium levels.
Some of the serving suggestions that the manufacturers give you are as follows:
Fun Snack Ideas: Serve the cheesy ideas as dragons, spiders, purple butterfly or red butterfly, bat, betzel butterfly or yellow butterfly using radish, apples, strawberries, blueberries, tortilla chips, pine and almond or pistachio nuts, to make this cheese much more yummier than they are actually are, and to get your children eat them or for great appetizers.
Dip recipes will include cheesy spinach dip, cheesy vegetable dip or Pretzel dip, which are made with spinach, vegges and pretzels, making your every bit of crackers are real treat that you can relish for the rest of the life.
Main dishes: This is one of the favorites to be added as the cheese base for Pizza, and especially the making of the veggie pizza, which your entire family can enjoy and also can make your party real good.
Treat yorself with cheese in relishing way!
Image Credits: iit.cz
How To Eat Kaukauna Cheese?