How To Eat Gourmet Cheese

17 Mar 2011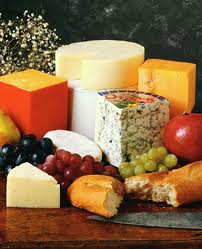 Gourmet cheese refers to the many varieties of high quality cheeses that are not easily available in local supermarkets and are specialty cheeses. Gourmet cheese is accompanied by mouthwatering descriptions and various serving suggestions in the stores.
The choice of gourmet cheese is very vast and you can choose between flavors that range from sweet to sharp or from bitter to stronger tasting cheese. The texture of cheese also is varied and you can opt to buy buttery, nutty, peppery, tangy or even robust gourmet cheese. Gourmet cheese is most often included in gift baskets. Some common examples of gourmet cheese include French Pyrenees, American farmstead Cheddar, English Stilton, Italian Pecorino etc.
Savor Gourmet Cheese with Pleasure


Eating gourmet cheese is a pleasure in itself. It is vital that gourmet cheese is eaten according to serving suggestions for deriving maximum pleasure. They are expensive cheeses and should not be wasted via mediocre serving combinations.
Bring cheeses to room temperature prior to consuming them. This would allow flavors to completely emerge.

Keep all gourmet cheeses covered in order to prevent them from drying out.

Eat gourmet cheese by using a separate knife for different cheeses so that there is no mingling of tastes.

Start by selecting gourmet cheeses of varying textures, flavors and even different milks.

Begin eating gourmet cheese from the mild flavored one and work the way up to the sharpest or strongest tasting cheese. This would allow the palate to retain its sensitivity to gradual rise in flavors.
Gourmet Cheese Combo Inspirations


Experimentation would lead to discovery of favorite gourmet cheese combinations. Given below are some traditional recommendations for food and beverage – gourmet cheese combinations during gourmet cheese course.
Beverages are kept to the end of a gourmet cheese course. They cleanse the palate. Drinks and wine served during a cheese course should be in tandem with intensity of flavor of cheeses served. Non-alcoholic beverages like coffee, cider and fruit juices are also occasionally served.

Eat gourmet cheese with fruits like apples, pears, grapes, figs, nectarines, melon and berries since the crisp texture and juicy sweet nature of the fruits complement the salty taste of cheeses.

Harder variety of gourmet cheese is eaten with dry fruits that offers it a chewy texture.

Jams, chutneys, pastes etc are also often eaten with gourmet cheeses.

In order to increase nutty flavor of cheeses, eat them with toasted walnuts, almonds, pecans, hazelnuts and pistachios.

Olives complement the rich taste of gourmet cheese with their briny flavor.

In order to change texture of cheese, cured meats like prosciutto can be tried.

Eat breads like baguettes and flavored crackers with gourmet cheese to cleanse the palate.
Gourmet cheese is the symbol of class and decadence. There are plenty of varieties of gourmet cheese that can satisfy your palate. Gourmet cheese can turn a boring meal or gift into an exquisite one.
Image credit: skaneatelessuites.com 
How To Eat Gourmet Cheese