How To Eat Beechers Cheese
16 Mar 2011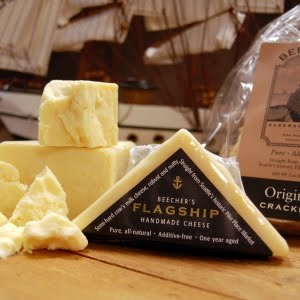 Beechers cheese- are batch of handmade cheese products produced by Beecher's. This cheese is prepared from pasteurized milk. The cheese is relatively new to vast cheese kingdom (it was introduced in 2003) but it has gained massive popularity in very short period of time . According to some reports the Beecher's respond to about 17000 orders of cheese and macaroni every year.
If you have made up mind to eat beechers cheese then we can perhaps help you with some valuable serving and eating tips. Beginning with serving tips:
For best effects warm the beechers cheese at room temperature before you plan to serve them.
To enjoy its best flavours the cheese should be unwrapped only few minutes before eating it.
The soft cheeses should be sliced and eaten at room temperature.
Here is how to eat beechers cheese:
Beverages: As there is no hard and fast rule to eat cheese beecher's, but like any other cheese they taste good with certain wine combination. You can always go for some cheese-friendly red or white wines to team up your beechers. White wines like Sauvignon Blanc, Rieslings, Champagne, Gewurztraminer, and dry to sweet Muscat are supposed to be cheese friendly wines. Similarly you can go for some popular cheese friendly red wines like Cabernet Sauvignon, and Pinot Noir.
Accompaniments:  With beecher's cheese you can creatively exploit your party hosting skills because it can go well with most of breads and crackers. You can choose simpler route by teaming it with any homemade bread. Or you can go serve the cheese with beechers crackers. Garnish with dried fruits, fresh sliced fruits, olives, to add a touch of festiveness to your presentation. You can leap a festive step by choosing multicoloured chutneys, fruit pastes and dried compotes.
Serving beechers as a part of Cheese platter: If you are wary of serving the beechers cheese alone then you can serve it on cheese platter. Reserve a portion of platter for each kind of cheese to avoid confusion. Adorn the serving platters with some herbs or edible leaves. The cheeses should be accompanied with tools to cut them. Knife, spreader and plane should be supplied depending on the type of cheese of served.
When done with all the above arrangements, then your celebration time with beechers cheese is set to begin. 
Image Courtesy: 4.bp.blogspot.com 
How To Eat Beechers Cheese