How To Serve Jam Sandwiches To Kids Creatively

10 Mar 2011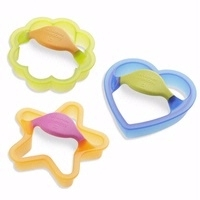 Want to serve jam sandwiches to kids creatively but falling short of ideas? We have a solution for your. Read on for some really cool ideas to serve jam sandwiches to kids creatively.
Getting kids to eat especially when they are ready for school and when at school can be a big challenge to tackle. Making their lunches fun and interesting will cheer your kids to eagerly munch up everything you pack for school. School lunches can easily become boring, if you make your kids the same thing each day, but adapting a few tricks to spice up there lunch bag will keep your kids excited for more.
Kids love food only when presented creatively.  Serving jam sandwiches have never been so easy; pack a little fun into your kid's lunch box by:
Pig sandwich: creating this cool pig sandwich is no rocket science. This easy to make sandwich is sure to be your kids favorite and gain popularity among friends.
Traffic signal: You could also use this as a safety lesson, to teach or emphasize what red, yellow and green mean on a traffic signal.
Bumpy road sandwiches: Have fun with picnic snacks by making sandwiches into cars.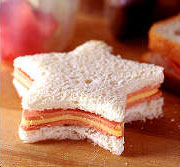 Star bright sandwiches: You can bake several of these rolls in advance and stock up in the freezer. You can serve the meat and cheese sandwiches in a split second, as you would have the rolls ready.
Peanut butter breakfast sandwiches: Can't get the kids to eat in the morning? We all go through the same frustration every morning. They'll restlessly wait for breakfast when you serve toasted French bread stuffed with peanut butter, honey, and banana. This wonderful sandwich serves as a complete meal.
Crunchy peanut butter and a wrap: Your kid's friends start envying them seeing their lunch box. Add a little sweet apple and crunchy granola then roll it up into a swirl.
Scenic Peanut Butter & Jam sandwich: is a fun twist on a traditional treat.
Swimming tuna sandwiches: Fling the ready-to-go ingredients and spread in fish-shaped bread for a protein-packed sandwich that will keep your kid's tummy chock-full. Use any shaped cutter to shape the bread slice into the desired design.
Alphabet sandwiches: If you can't find alphabet cookie cutters, try using letter stencils.
Extra-special peanut butter: Don't you feel boring to prepare the same sandwich every day? Kids can feast on incredible foods instead of that plain peanut butter sandwich.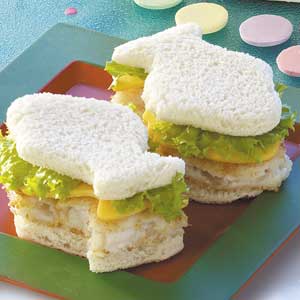 Shapely sandwiches: Turn your desired meal into your favorite shapes, animals, and characters.
Veggie wrap: Personalize wraps with your favorite vegetables -- broccoli, zucchini, or even cooked green beans.
Kooky cookie sandwiches: Treat yourself to a sandwich made of cookies, decorative candies, and a homemade filling.
Special Add-ins: – Slices of banana, raisins, crushed nuts, chocolate chips, fresh berries, even bits of pretzels are all things you could add to your sandwich to make it extraordinary.
It's very important to serve jam sandwiches creatively to encourage your kids to enjoy their meal completely.
Image credit: raviolisforlunch.blogspot.com 
How To Serve Jam Sandwiches To Kids Creatively