How To Serve Sugar Snap Peas

9 Mar 2011
There are numerous ways to serve sugar snap peas. Sugar snap peas taste great in every way, whether steamed stir fried, sautéed, or raw. These plump green pods are packed with vitamins and minerals and are low in calories and thus a very healthy choice for those watching their calories. 
 How to Serve Sugar Snap Peas
If you want to serve sugar snap peas, buy them fresh from the green grocer. Make sure you select plump and bright green pods which are firm or buy the ready packaged ones which will make serving sugar snap peas a child's play.
You do not need to shell or string Sugar snap peas and so they are a really easy to use. The stem end can be removed but it is not necessary to do so. Some like to pull the 'spines' of the pod as well but you can cook them without doing so.
Sugar snap peas should be blanched in boiling water for a couple of minutes and then immediately refreshed in chilled water and drained. You can serve sugar snap peas raw or cooked, cold or warm.
Sugar snap peas make a wonderful addition to many dishes. Here are a few ways of serving sugar snap peas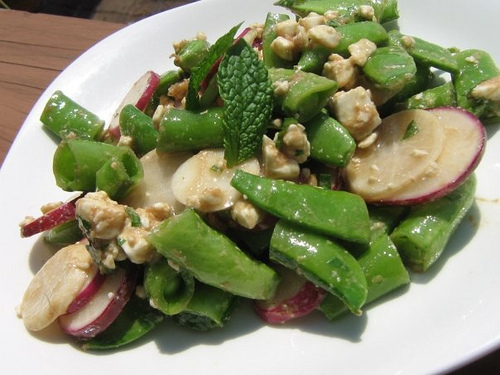 Serving Sugar snaps in a salad. Use blanched sugar snap peas in salads. Toss them with other veggies, cold meats and a lovely dressing. You are sure to love the color and crunchiness they provide to salads.

Serve them steamed topped with crumbled blue cheese

Serve sugar snap peas in stir-fries. It will take you only 2 minutes to stir fry sugar snaps peas in olive oil with some garlic, spices and herbs.

Servesugar snap peas raw with a creamy spinach dip or hummus.

Add them to a stew, a braised meat or fish dish or to a curry. Remember to add them only during the last 10 minutes of cooking or they will lose their crispness and color.

They are a wonderful addition to tossed pasta and noodle dishes and go well with tomato, sea food, herbs and cheese.

Roasted snap peas will be a hit when served along with roasts. Toss blanched snap peas in a little butter with herbs and seasonings. Broil them for 5 minutes and top with a sauce or cheese.
Think of various ingredients you would like to combine sugar snap peas with. Use sugar snap peas as a substitute in recipes that call for snow peas. Try the above ideas of serving sugar snap peas and your family is sure to love them.
Image courtesy - beingplants.com; flickr.com 
How To Serve Sugar Snap Peas