Manapua- "Hawaiian" snack food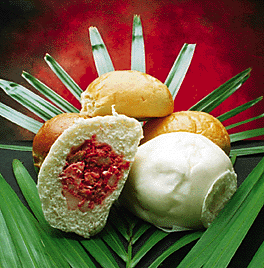 A long time favourite in the islands a "Hawaiian" snack food called manapua is actually the classic Chinese dim sum offering char shu bao, or steamed pork buns. Chinese indeed, but adopted and renamed by the inhabitants of the Hawaiian islands, who now consider it their own. Manapua is Hawaiian slang for the Chinese food cha siu bau (pork-filled bun). Origin of the word Manapua is  shortened from meaʻono-puaʻa, meaning "pork cake" (meaʻono = "cake").  On the mainland this item is usually is a dim sum item offering.Children always love these buns filled with barbecued pork.  The bun can be baked, but is more frequently steamed. Manapua has come to mean any meat-filled or bean-paste-filled bun made with this white dough. There are some locally created versions in Hawaii with hot dogs, curry chicken, and even ube (purple yam), fillings for manapua. In Hawaii, freshly prepared or prepackaged frozen manapua may be found in some bakeries and restaurants.The following manapua recipe includes a bun recipe from "The Food of Paradise" cookbook by Rachel Lauden and char siu and manapua filling recipes from the Gas Co. "Blue Flame Notebook" October 1982 flier.

Manapua (Savory Stuffed Buns)

Bun dough:
1 package dry yeast
3 tablespoons lukewarm water
2 cups warm water
1-1/2 tablespoons cooking oil or shortening
1/4 cup sugar
3/4 teaspoon salt
6 cups sifted flour
1/2 tablespoon sesame oil

Filling:
1 cup water
2 tablespoons cornstarch
2 tablespoons sugar
1/2 teaspoon salt
1 pound char siu, diced (see recipe below)
Few drops red food coloring, optional   To prepare bun dough: Sprinkle yeast over 3 tablespoons water and allow to stand until yeast softens. To remaining water, add oil or shortening, sugar and salt, stirring until melted or dissolved. Cool. Add yeast mixture.   Place flour in a large mixing bowl or a heavy-duty mixer and add most of the liquid. Begin kneading. Add remaining liquid to make a very heavy dough. Continue kneading or mixing until you have a smooth ball that is beginning to show signs of long strands on the outside, indicating that the gluten has fully developed.   Remove dough from bowl and rinse out bowl. Pour sesame oil into bowl, return dough and turn it around until covered with a thin layer of the oil. Cover with plastic wrap. Allow to rise until double in bulk -- about an hour in a warm room. Placing the dough in the refrigerator and allowing it to rise there, 3-6 hours, develops the flavor. Proceed with the filling or gently deflate the dough and allow it to rise for a second time, which will further enhance the flavor.   To prepare filling: In a pot, stir cornstarch, sugar and salt in water until dissolved. Bring to a boil, reduce heat and simmer 1 minute, stirring constantly. Add char siu and, if desired, red food coloring.   To stuff and steam buns: Heat a steamer with plenty of water. Cut 12 (3-inch) squares of waxed paper and coat 1 side with 1/2 second coat of nonstick cooking spray. Punch down dough and divide into 12 pieces. Roll each into a ball. Flatten into a circle about 6 inches in diameter. Make the dough as thin as you can and try to keep the edges thinner than the center.   Place the circle of dough in the palm of your hand. Spoon in a couple of tablespoons of filling, cupping the dough around it. Then, with the thumb and finger of the other hand, pinch the edges of the dough as if you were making a fluted edging on a pie crust. Pinch the folds together, twisting them as you do so.   Local manapua are usually served fold-side down, and Vietnamese manapua with the twirl of dough on top. Place the completed manapua on a square of greased waxed paper. Allow to plump up into a globe with a taut exterior. Place in steamer on their squares of paper about 1 to 2 inches apart.   Cover and steam vigorously for 15 minutes. If using a metal steamer, place a folded tea towel across top of steamer, holding it in position with the lid. This will prevent steam from dropping onto manapua. If using a bamboo steamer, this is not necessary. Remove steamer from heat, let stand 5 minutes, then open. Serve hot. Makes 12 buns.   Note: To bake manapua, brush top of buns with a little canola oil and bake 20 to 25 minutes at 350 degrees.


Old-fashioned local-style manapua, whether baked or
steamed, has a filling made with red-dyed char siu.

Char Siu 4 pounds pork butt, cut into 5-by-3-by-2-inch pieces
2 tablespoons Hawaiian sea salt Marinade:
1 cup sugar
1/2 cup soy sauce
2 tablespoons honey
1 tablespoon whiskey
1 teaspoon red food coloring
1/2 teaspoon Chinese 5-spice powder   Rub pork with Hawaiian salt and refrigerate 1 hour. Combine marinade ingredients. Soak pork in marinade in refrigerator 24 hours. Place meat on a rack over 1/4 inch of water in a shallow roasting pan. Roast 1-1/2 hours at 300 degrees. Makes 4 pounds char siu, about 16 servings.
Manapua- "Hawaiian" Snack Food