Meal Ideas To Go With Bruschetta
26 Jan 2011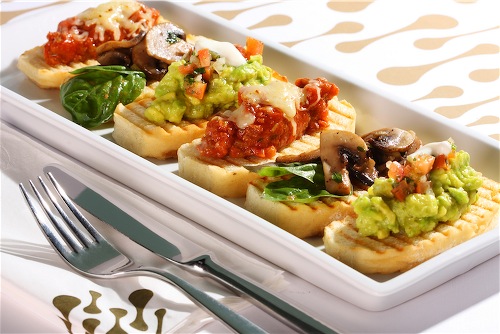 Here are some meal ideas with one of the famous Italian appetizers, originating from central Italy. Before we start, I think bruschetta has to be the most commonly mispronounced words among English speaking fine diners. The Italians pronounce it as broosˈketta. Loaded with tomatoes and herbs, bruschetta also sometimes has cured meat and cheese as toppings. This Italian appetizer was mainly devised as a way to salvage left over bread by presenting it as a snack or an appetizer. Authentically, bruschetta is made from garlic bread and sun-dried and fresh tomatoes in equal portions mixed with thyme and a liberal dashing of extra virgin olive oil.
Now that we learnt how simple it's to make bruschetta, let's see what you can do for the rest of the meal if you have bruschetta on your menu. Since bruschetta is traditionally Italian, you would want to serve Italian cuisine for the rest of your dinner with bruschetta. Typically, a simple pasta dish can be followed by the starter.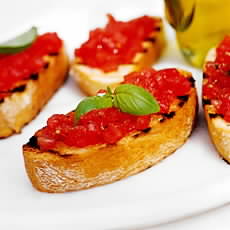 Try penne arrabiata. It cannot get simpler than this. The arrabiata sauce is one of the simplest to make. Here's how. Take two to three firm tomatoes, slit them and boil exactly for thirty seconds. When they cool, peel them off and mash with your blender. Chop some fresh parsley and crush two pods of garlic. Heat olive oil in a pan and add the parsley – garlic mixture. Add chopped onions into it and sauté it for a few minutes. Add the tomato puree, basil, oregano, salt, pepper and chilli flakes. Slow cook for about half an hour. Your arabiata sauce is ready. Add cooked pasta into it and serve.
Or there's another simple method. Since bruschetta is also a wholesome and yummy dish, try converting it into an open sandwich. For that you might need bigger bread than a regular baguette. Try Ciabatta or Panini to make an open bruschetta sandwich. Take sundried and regular tomatoes in equal quantities and chop them finely. Keep it in a bowl and add a general drizzle of olive oil. Add freshly chopped thyme and basil into the bowl and toss it. Add salt and pepper to taste. Spread it over your bread (Ciabatta or Panini) and your open bruschetta sandwich is ready to eat. 
Image Credit: italianfoodnet.com, vegetariansrecipes.org 
Meal Ideas To Go With Bruschetta