How To Serve Camembert Cheese
13 Jan 2011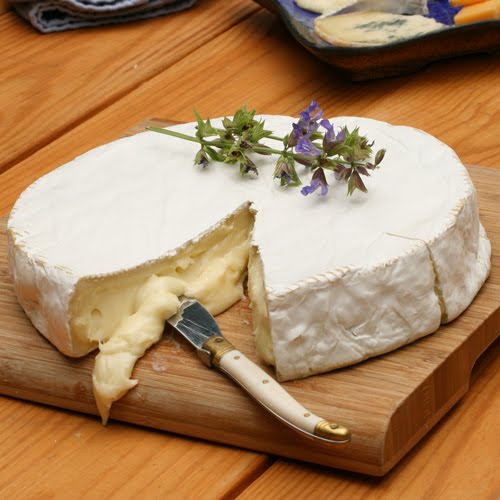 How to serve Camembert cheese, eh? To me, the Camembert cheese is legendary. I'm a huge fan of Salvodor Dali and the other Surrealists. I find surrealistic paintings very stimulating, mentally. I'm not sure if you are familiar with Dali's Persistence of Memory painting. Ok, it is the one that has the melting clocks on a landscape. You would have seen it somewhere or the other. It so happened on one afternoon that Dali saw some half eaten Camembert cheese melting in the heat and yada, yada, yada. To cut the whole story short, it was the melting Camembert cheese that actually inspired Dali to paint it. Let me introduce to you, the Camembert! Now, the Camembert cheese is a soft, creamy cow's milk cheese, first made in the late 18th century in Normandy, France.
The Camembert cheese is popularly claimed to have been invented by Marie Harel, a farmer from Normandy in 1791. Earlier, the cheese-makers made the Camembert from unpasteurized cow's milk but now it would be illegal to make commercial cheese from unpasteurized milk. The French used to serve Camembert cheese to their armies during WWI. This has become a tradition now, that they continue to serve Camembert cheese to the armies on special occasions.
So, how exactly can we serve Camembert cheese?
Since the Camembert is a soft cheese, it is best served at room temperature. Excess of heat and cold will alter its state. 

 
Traditionally, they used to serve Camembert cheese along with wines such as the Red Bordeaux or the Beaujolais. The saltiness of the cheese goes well with pungency and zing of the Red Bordeaux. Well, for that matter, the Camembert cheese will go well with most of the red wines.

 

The Camembert cheese is quite versatile, can be used to make a variety of dishes. This cheese is usually consumed after a meal as a dessert or during the meal along with wine.
The bottom line is this: serve it as you please. But remember, the Camembert is not just any cheese, it is special. Bon Appetit!
Image Courtesy: wifeyness.blogspot.com
How To Serve Camembert Cheese