Healthy Baked Treats To Suit Any Occasion
From cupcakes, to bread and cookies baked treats are relished by one and all.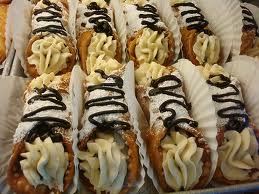 Be it Thanksgiving Day, Halloween celebration, Christmas party or any other occasion, baked treats have always been in.
Buttery croissants, mushy Danishes, chewy brownies the list of baked items is actually unending and therefore many of us get confused while planning for any occasion to what to include and what not.
There are some yummy and mouthwatering baked treats for all occasion. Let's see what they are-
Cookies- Nothing can match the taste of a warm fresh baked cookie. The wholesome and delicious bites of cookie can remind anybody of his/her childhood. Available in different flavors all around the world, cookies are one the best baked treat to suit any occasion. You can have them with coffee, tea and even with wine. Cookies are sometimes referred as sinful treats as they are usually loaded with nuts and chocolate. But having a bite, once in few weeks is perfectly alright.
Italian Biscotti- The Italian biscotti always make a perfect choice for any occasion. A testament to Italian culture, this baked treat is savored best with family and friends. Rich in nuts like almonds, walnuts and hazelnuts, the Italian Biscotti is also a good source of protein and fibers. Those with chocolate and caramel are high in calories and should be eaten in moderation.
Cakes - Children love them and adults cannot avoid them; cakes and muffins suit to every occasion. Birthday cakes, anniversary cakes, Christmas cakes; there is a cake for every celebration.  From dark chocolate cake to delighting raspberry cream cheese coffee cake to cranberry white chocolate; cake goes well with all. Baking a cake is very easy; you just need to have a good recipe and knowledge of cake baking. With some decoration and frosting, you can make this baked treat a visual treat for all.
Muffins- Muffins are always considered a healthy option to other baked products. Though muffins are also high in calories, it is always easier to make a choice in ingredients which can not only make them healthier but also make them tasty and nutritious.  Consider low fat varieties of cookies or ones made of whole flour. There are many tasty options of muffins containing fruits also available in the market.
Breads- There are lots of bread varieties available these days. The rich aroma of fresh baked bread and its tasty bite will make you gain appreciation from all your guests. Fruit breads, brown breads, garlic breads; all go well with any occasion.
Though the baked items have high calorific value, eating them in moderation will not affect your weight. So, relish these baked treat to the fullest.
 Imagecredit- cakespy.com