Chocolate Cups Can Be Healthy Too - Did You Know

31 Dec 2010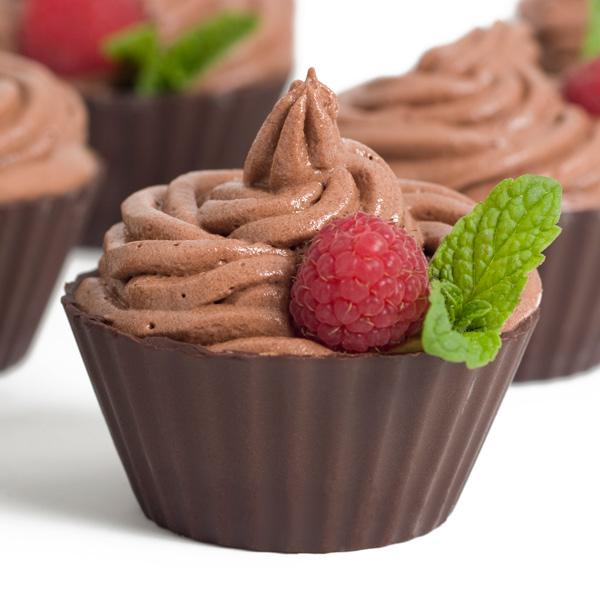 Chocolate lovers, there's a good news for you – health care professionals have finally come to the conclusion that those yummy, delicious chocolate cups can be healthy too. It has been found that having dark chocolate every day is good for the heart. So why to wait? Use your culinary skills and prepare lip-smacking chocolate cups to avail the health benefits of chocolate.
How To Make Chocolate Cups?
Chocolate cups can be easily made at home with variety of filings as per the taste and mood. Melt the chocolate chips in the microwave. When the chocolate is melted, scoop them out into a muffin case. Spread the chocolate on inside of the muffin cup using a food brush. When the chocolate layer cools and hardens, apply the next layer to increase the thickness of the cup. Once this process is complete, keep the chocolate cups in the fridge so that the chocolate will set.  
If you are truly crazy about that deliciously rich concoction, chocolate cups are ready for you to eat; else you can do some filling. You can fill the cup with peanut butter or mixture of shredded coconut and cream cheese or get little fancy by whipping something on it. Chocolate ice cream cups with your choice of fruits will be another option for you. If you want to make it more healthy, use low-fat cream cheese and fat free whipped topping.
Health Benefits Of Chocolate
Chocolate is a product of the cacao tree so undoubtedly it must have many health benefits. So why to worry about the myth that it's not good for health. Moreover, recent studies have shown that if wisely eaten, chocolate especially dark chocolate has various health benefits. Chocolate lovers… scroll down to know about the health benefits of chocolate.
Heart Health: A small bar of chocolate boosts the vascular health because it has rich content of polyphenols and antioxidants.
Blood Pressure: Minerals such as magnesium and copper present in the dark chocolate regulates the blood pressure.
Cholesterol Level:  It has been found that chocolate lowers LDL cholesterol by up to 10 percent in the body.
Immunity: Catechins and Epicatechins are the two types of flavonoids present in chocolate that boosts the immune system of the body.
Anti-depressant: Dark chocolate contains serotonin, which cures depression.  
Stress Relieving: Various stimulants such as theobromine and caffeine, found in chocolate reduce the stress level.
So, unleash your culinary skills and treat yourself with variety of healthy chocolate cups. Mmm… It's so tasty and healthy too.
Image Credit: sephra.com
Chocolate Cups Can Be Healthy Too - Did You Know