Quick Appetizer Ideas
26 Dec 2010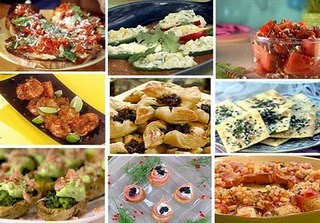 It is celebration time and if you are throwing a big party for friends and family, you would obviously not want to waste much time in the kitchen. Therefore, I am giving you some quick appetizer ideas. You can consider these quick appetizer ideas because they dont encourage you to  sacrifice the taste. Make as many snacks as you want to prior to your party but assemble them only at the last minute so as to ensure freshness.
Stuffed Tomatoes

When hosting a party, you can use juicy tomatoes to prepare fast and healthy appetizers. You may also incorporate other garden treasures into your snacks for ensuring a fresh taste. Stuffed tomatoes are very easy to prepare and they are satisfying appetizers too. These jewel-toned tomatoes also add a pop of color to the snack tray apart from adding great taste. In order to create the treats, you will first have to slice the tops off of medium-sized vine-ripened tomatoes and the remove its insides in order to create hollow "bowls." The filling can be a combination of tasty corn and rice which is created by mixing fresh corn kernels, cooked jasmine rice, parsley, olive oil, red onions, chopped green and yellow peppers, lemon juice and salt and freshly ground pepper to taste. Stuff this mixture into the hollow tomatoes and arrange them nicely on a serving tray. You can also stuff the tomatoes using homemade hummus, tuna or egg salad.
Bruschetta

Bruschetta is yet another fast and elegant appetizer that can be served for any type of get-together, be it casual cocktails parties or fancy holiday dinners. Prepare the bruschetta bread a day ahead in advance so as to save time on the big day. Make the toast by cutting a loaf of day-old crusty Italian bread into slices which is ½-inch thick. Use extra-virgin oil as well as fresh-ground pepper to sprinkle the tops of the bread pieces. Toast the slices of bread in a broiler and then wrap them in a cloth napkin-lined basket. The toast is best served along with a selection of simple, handmade topping like corn and black bean salsa, sliced tomatoes tossed with fresh basil as well as olive oil or a creamy avocado spread.
Mozzarella Bites

You can treat guests to bite-sized cheesy goodness which is a simple yet gourmet appetizer. Turn the creamy mozzarella balls into a delectable palette primer. In order to assemble the snacks, chop the roasted red peppers into strips and then wrap them around small mozzarella balls. Slide the cheese pieces onto toothpicks and your delicious bite-sized treats are ready to be served. You may also experiment with wrapping the mozzarella in prosciutto, bacon or even fresh basil leaves. The unwrapped cheese balls can also be set on toothpicks with either marinated olives or cherry tomatoes. Arrange bites in a sequence on a tray, toothpicks up, and sprinkle some olive oil on the top and season with salt and pepper.
image credits : drinksplaza.blogspot.com
Quick Appetizer Ideas