How To Clean Burnt Stains Off Stainless Steel Cookware

22 Dec 2010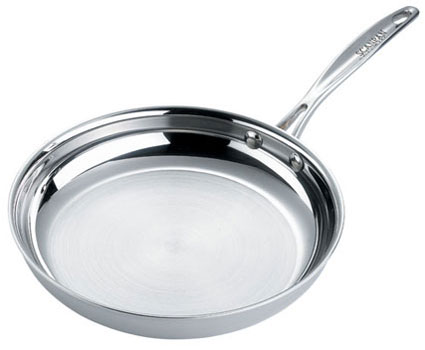 Sauté pans tend to become black over a period of time and require deep cleaning every few days so to keep it looking good for cooking. As a home chef, you should be learning how to clean burnt stains off stainless steel cookware; so that whenever you pick up your utensils for cooking it should be appealing to look at and pleasant to cook with. Well maintained and shiny stainless steel utensils enhance cooking experience as well as improve the look of your kitchen.
Cleaning burnt stains off stainless steel is difficult but very much possible and it's worth the effort because the utensil will become spanking new once again. So here is a step by step guide to clean burnt utensils.
Materials Required
All the materials required to clean burnt stains are available in your kitchen so you can clean it at your own free time without any worries. You can even go straight into the kitchen to clean burnt stains off stainless steel right now after reading this article. Everyone has the following items stored in the kitchen, bring them together.

                                                                                                                                              
Vinegar
Baking Soda
Mesh dish scrubber

                                                                                                                                                          
Procedure
Place your dingy stainless steel cookware onto the stovetop.
Pour vinegar into the pot or cookware to cover the bottom of the pan. Add same quantity of water and 1 tbsp baking soda.
Turn on the stove and let the water and vinegar mixture boil.
Boil on high flame for about 20 minute; this will loosen up stains in the stainless steel utensil.
Try to scrape the black and brown burnt spots with the help of a wooden spoon. You need not heat the mixture further if the stains come out easily.
Remove from stove and drain away the blackish water. The vessel may look dirty but it's a sign that the baking soda and vinegar are working on the stains.
Take a tablespoon of baking soda and scrub the bottom of the pan with the dish scrubber. Scrub until the stains are cleaned or wash away the dirty baking soda paste and take some fresh baking soda powder for scrubbing again.
Wash the stainless steel vessel that is being cleaned and find a gleaming pan just like a new one.
Baking soda is an excellent cleaning agent for utensils in kitchen. By learning how to clean burnt stains off stainless steel cookware, you can have utensils that look brand new all the time.
Image Courtesy: peppercorn.net 
How To Clean Burnt Stains Off Stainless Steel Cookware