Top 5 Healthy Holiday Snacks That Help You Stay Thin During Holidays
14 Dec 2010
With the onset of the festive season, diet and balanced meals go for a toss! But not anymore. Instead of the traditional snacks, go for these top 5 healthy holiday snacks that help you stay thin during holidays and maintain a perfect balance between health and taste: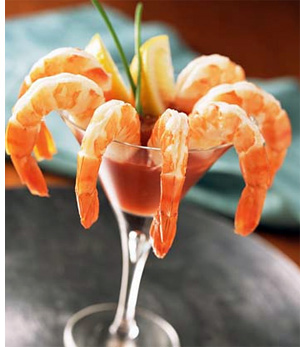 •    Shrimp cocktail: This healthy holiday snack calls for an absolute minimal prep, yet offer an elegant style. A bottle of cocktail sauce coated with a few boiled shrimps is all that you need for this simple and easy snack. A mere 130 calories and 1.5 grams of fat are all that this healthy snack costs you.

•    Fresh Salsa: Not only a healthy holiday snack, fresh salsa is a tasty one too. The bright colors that the freshly chopped tomatoes, shallots, red, yellow and green peppers, cilantro and jalapeno offer make it a perfect dish for the holiday season.

•    Hummus: Hummus, the healthy dip made of cooked and mashed chickpeas and blended with olive oil, tahini, lemon juice, garlic and salt is a popular holiday snack. Serve it as a dip with appetizers or as an accompaniment to falafel, grilled chicken, fish, eggplant, tortilla chips or crackers and enjoy.

•    Cheese Board: Cheese, the perfect partner to wine, simply sets in the holiday mood. Any holiday party is incomplete without a tempting cheese board. But it also brings a lot of dilemma and guilt. However, with this healthy holiday snack, no more of the sacrifice! Simply slice goat cheese into slices of half inches and top them with marinara sauce. Bake until the cheese melts, sprinkle some fresh basil on them and serve fresh with baguettes. This creamy, cheesy delicious holiday snack is sure to leave your mouth watering.

•    Flavored Popcorns: Popcorns are one of the healthiest snacks to offer, not just this holiday season, but throughout the year. Serve plain popcorns or the flavored ones – like, the maple-kettle corns or the cinnamon-sugar corns - and celebrate this holiday season in a healthy way.
Thus, choose any one of these top 5 healthy holiday snacks that help you stay thin during holidays and make this holiday season a perfect celebratory one in its true sense.
Photo Courtesy: rusticrockchophouse.com
Top 5 Healthy Holiday Snacks That Help You Stay Thin During Holidays