Best 5 Healthy Holiday Foods For Healthy Eating During The Holidays

10 Dec 2010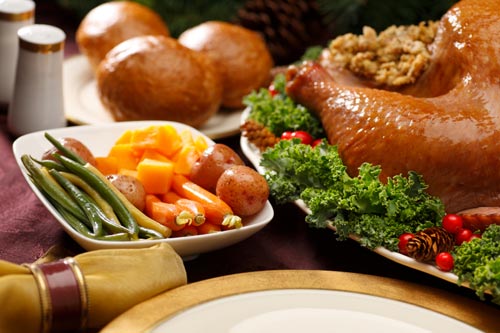 When the festive holiday season is round the corner, how can parties and holiday dinners be far behind. If you are worrying about those extra kilos that might pile on, here are the Best 5 Healthy Holiday Foods For Healthy Eating During The Holidays:
Protein Diet: Try to eat eggs, nuts, beans, lean meat, tofu, soy products and protein shake. By eating these you will feel full and hence refrain from eating sugary products and empty carbohydrates. For a quick snack always keep nuts at your disposal.
 Fruits and Vegetables: It is a good idea to eat lots of fruits, salads, and vegetables before heading for desserts at holiday parties. Even when making a choice for dessert, you could choose a sweet fruit like papaya, apple or indulge in fruit salad in low fat cream.
Water: Keep yourself well hydrated and opt for water instead of colas and other drinks, so as to avoid empty calories. You could squeeze some lemon juice in water and add some salt and little sugar to make your own water lemonade.
 Grilled and Baked Food: Grilled and Baked foods contain fewer calories and are a healthy eating option than their fried versions.
Yogurt: Instead of gorging on ice cream, you could try frozen yogurt. It is delicious and healthy.
When you are donning the chef's cap, try some healthy low-fat recipe substitutes:
RECIPE DEMANDS
YOUR SUBSTITUTE
Heavy Cream
Two tablespoons of flour mixed with two cups of skimmed milk
Sour Cream
Plain yogurt (low fat)
Whole egg
Egg whites
 By eating healthy during the holiday season you will have more energy to enjoy the festivities. So go ahead, have a blast and eat your way to healthy happiness. Happy Holidays!
Image Credits: blogs.smithsonianmag.com, 1.bp.blogspot.com
Best 5 Healthy Holiday Foods For Healthy Eating During The Holidays