Low-Carb Options To Pick At A Thai Restaurant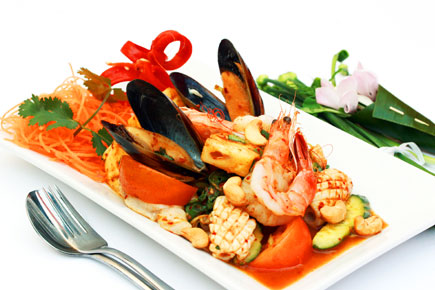 On a low carb diet and got an invitation for dinner at a Thai restaurant? Don't fuss and accept the invitation because I am gonna help you figure out What Low Carb Options Are There at a Thai Restaurant? Yes, I know that Thai food is known for its noodles and rice but there are options you can entertain if you want to stick to your diet.
If you are going for lunch or dinner then you can order for soups and salads as appetizers. A simple spicy beef salad that consists of beef tenderloin, fresh vegetables, lemon grass and mint, is a perfect low-carb option. Another option is the Thai Seafood salad which has shrimp, calamari and fresh vegetables or you can also go for the Yum Neau which has grilled tenderloin marinated in Thai spices served with cucumbers, onions, tomatoes and scallions. You can also specify the kind of salad dressing and sauces you want to add to your salad or ask them to serve hem in separate dishes so that you can control how much you take. Also ensure that noodles or fruits are not included in the salad.
You can always order for a meat or chicken dish. A chicken dish you can order for is Pra Raam which basically has chicken and spinach in a red peanut sauce. You can also order for Rendang Chicken or beef Rendang which has chicken or beef served in coconut onion sauce with lemon grass and chilies. A meat dish you can opt for is Beef Basil which has beef served with fresh chilies, garlic, onions and bell peppers. Grilled meat or chicken  is also a good low carb option.
Thai restaurants have also got an amazing collection of seafood dishes. Stir fried lobster tail served with fresh garlic sauce and asparagus or Pad Talay which combines shrimp with scallions, squid and mixed vegetables are just a few options.
Avoid any dish that calls for frying, such as fried dumplings and fried meat or the famous "hoy tod" which is fried mussel pancakes. Instead go for steamed Thai food and try and specify that only olive or coconut oil is used.
Avoid ordering any dish which has white rice or noodles for your main course. The chicken or meat dishes usually come with rice. Substitute the rice with a soup or salad of your choice or order fresh or steamed vegetables and steamed dumplings.
Avoid dishes that contain fruit, and stick with meat, seafood and vegetable meals.
Avoid eating desserts as they simple sugar carbohydrates that will be quickly absorbed into the bloodstream and kill your low-carb diet plans.
Tips and Warnings
Thai restaurants have a tendency to serve food in large portions; your best option would be to share your dishes with a friend.
When ordering food take care that you avoid food that has allergens like peanuts or shellfish and spicy food as this may upset your stomach. Most Thai restaurants give you an option to adjust the spiciness of the food served.
If you just have to have desserts, then look for items that contain whole wheat or fruits that are high in fiber.
Image Credit
Low-Carb Options To Pick At A Thai Restaurant