How To Eat Calamari
13 Nov 2010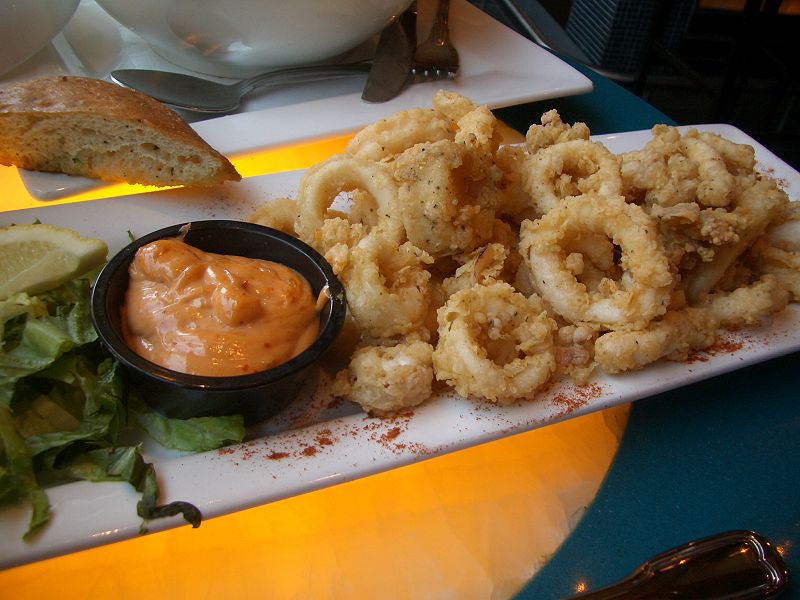 "How to eat calamari?"-this newspaper headline attracted my attention and having gotten the chance to eat calamari a couple of times at my friend's place, I know quite a bit about this delicious fish now. Calamari or squid is synonymous with Mediterranean cuisine and is generally served as an appetizer. 
Calamari belongs to the Mollusk family and is closely related with clams and oysters. Squids eject black ink to distract their predators. This ink is also used in various Mediterranean cuisines as natural food colorant. Calamari is rich in calcium, riboflavin, thiamine, and phosphorous. You can buy it frozen or fresh. Two ways to eat calamari is to fry or grill it.

Grilling Calamari
Ingredients
Squid (tentacles, tube, and flaps) -1 and 1/2 pounds - cleaned and prepared
Extra virgin olive oil - 1/2 cup
Lemon juice – 6tbsps
Fresh oregano leaves, chopped – 2tbsps
Cloves - garlic, minced –12
Pepper –2tbsp
Fresh basil, chopped – 1tbsp
Salt – 1tbsp
Red pepper flakes – 1 and half tbsp
Lemon wedges

Method of preparation
Marinate the squids with olive oil, pepper, lemon juice, basil, garlic, salt, oregano, and red pepper flakes. Refrigerate them overnight.
Set the grill on high heat, and grill the marinated squids till they are done. Generally, it requires anything between 2-3 minutes for grilling a squid.
Remove them from grill, and cut them if desired, decorate with lemon wedges and serve as an appetizer.

 
Frying Calamari
Ingredients
Flour – ½ cup
Cornstarch – ½ cup
Baking soda–1tsp
Baking powder –1tsp
Sugar – 1tsp
Salt– ½ tsp
1 egg
Ice water-2/3 cup

Method of preparation
Strain all the dry ingredients and set aside.
Take another bowl, beat egg and mix with ice water. Add the dry ingredients to the egg mixture, but don't over mix them. Allow the mixture to be lumpy.
Toss the Calamari in this batter and dust off the excess batter.
Deep fry the fish at 350 until it is Golden Brown.
Serve it after sprinkling with a salt.
Tips on how to eat calamari
You can eat calamari with a dipping sauce. Generally marinara sauce or sour cream is served as a dipping sauce. Or, you can eat it with homemade tomato sauce. This can be a good option if you have selected calamari as an appetizer.
Spread fried calamari over a bed of salad leaves, and garnish it with olives, cherry tomatoes and feta cheese. This is excellent to be served during the supper or lunch. 
Image courtesy: en.wikipedia.org
How To Eat Calamari