How To Eat Clementines?
10 Nov 2010
There are reasons enough to love Clementine – the sweet tangy flavor, the bright orange color, the fresh fruity fragrance, enough and more reasons why we love eating and using Clementine. There are various ways in which you can use Clementine. But if you are still not sure how to eat clementines, here's your quick guide: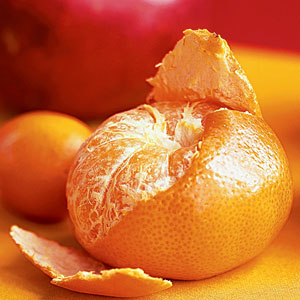 •    Whole Fruit:

Clementines are rich sources of Vitamin C, Potassium, thiamin and niacin. At the same time, the tangy tart flavor that they offer makes them immensely delightful. Therefore, eating Clementine as whole fruits is a great, yet simple way of eating these fruits.

•    Using Clementine in Cooking:

Clementine muffins, Clementine desserts, Clementine salads – there are numerous ways in which you can eat clementines. Adding small pieces of Clementine with walnuts and cashew nuts and tossed with olive oil and honey mustard dressing is a great Clementine recipe idea.

•    Clementine Juice:

Clementine juice is also a popular way of eating clementines. Simply place the fruit in a juicer and make a juice out of it and serve it during the breakfast. You can also make various kinds of cocktails and mock tails with Clementine juice as well – Clementine with Ginger Syrup, Clementine Gin Cocktail, Vodka Clementines, Clementine Negroni, to name just a few.

Clementine juices are also used to marinate meat and in other recipes and are also used extensively in desserts.

•    Clementine Rind:

Not just the fruit or the juice, with clementines, not even the rinds go wasted. Clementine rinds are used quite frequently in various recipes. Clementine cheesecake, Clementine chocolate cream tart, Clementine custard pudding, Clementine marmalade are some of the common examples where we find an extensive usage of Clementine rind.
Eating Clementine is just like eating an orange – peel the Clementine skin just as you do with oranges and then have the individual lobes. The only difference is perhaps in the fact that Clementines offer a much sweeter taste and a much greater pleasure. At the same time, they are a more versatile fruit that can be added to a wide range of dishes and can be eaten in any form.
Photo Courtesy: img4.cookinglight.com
How To Eat Clementines?