How To Eat Fresh Oysters

7 Nov 2010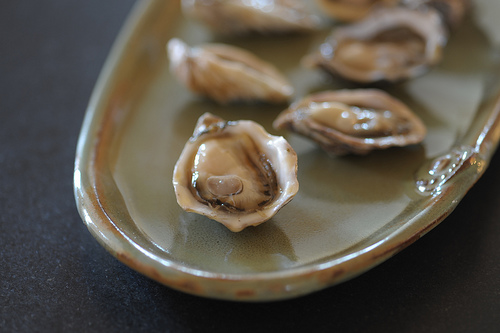 Oysters can be boiled, stewed, baked, roasted and pickled but eating fresh oysters is an experience in itself. So learn how to eat fresh oysters and amaze your taste buds with this wonderful seafood.
Oysters are best eaten alive and the dead ones are not safe to eat. Shells that are open have dead oysters in it, so eat the ones that are tightly closed.
Fresh oysters are served on half shell. Use a cocktail fork to detach the oyster from the shell. Hold the shell with your fingers and slurp the oyster along with the liquid present in the shell. Chew the oyster to enjoy its taste.
Eating fresh Oysters with seasoning
While many like to slurp their oysters straight from the plate, fresh oysters can also be seasoned. Create your own style of seasoning with few ideas given below.
Add cocktail sauce and vinegar in oyster and top it up with grated horse radish and squeeze out few drops of fresh lime. This combination of seasoning mingles with the fresh smell of oyster that is worth sniffing before it is eaten.
A shooter made with a mix of Tabasco, cocktail sauce, vodka is superb for dipping fresh oyster before it is slurped into your mouth.
Simply spice up your oyster with a drop of Tabasco before you sip the oyster and its liquid.
Eating fresh oysters with crackers is also an exciting way of enjoying fresh oysters. Take few crackers in a plate and place an oyster on every cracker, sprinkle some shredded cheddar or mozzarella cheese. Place the cracker with oyster topping in the microwave for just 15 seconds and garnish using slices of green olives.
Image Courtesy: farm4.static.flickr.com
How To Eat Fresh Oysters