How To Eat At French Banquets
3 Nov 2010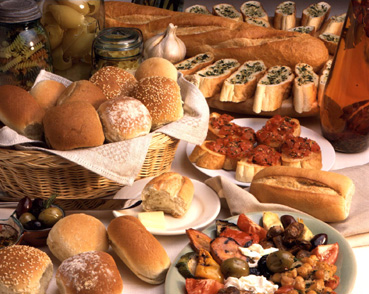 The French are generally known as passionate eaters. The French cuisine is known for its abundance of variety. Even the simplest food exudes elegance and charm because French love to experiment with their taste buds. Those who have never eaten at the French banquet should get prepared to celebrate the tastes. The normal French banquet lasts for five to six hours, because French love to sample various foods and go about it very slowly by appreciating each morsel of their food. A typical French banquet is marked with various courses.  
Aperitif

The first course of banquet is L'Aperitif where the host treats guests with champagne or other alcoholic beverages, and small and light appetizers, to stimulate their appetite before meal. Through this gesture the host thanks guest for making it to the banquet. Mostly glass of champagne is served during the Aperitif but sometimes the regional drinks may also be serve nuts, olives, and crackers. In northern France generally Kir is served in place of champagne and in southern France Pastis is served.  The children are treated with non-alcoholic drinks.
Appetizer

The guests are treated with various sumptuous appetizers during this course.  Actually guests proceed to main dinner after sampling various tickling appetizers; hence it is very essential that this course is carefully laid out. Both cold and hot dishes are served as appetizers. You first sample the cold dishes such as beef carpacio, salmon mousse then move on to hot dishes such as sole fillet terrine and cheese soufflé.
Main course
The main course of banquet varies from region to region depending on the regional specials. For eg: You can sample Butter and cream rich dishes at Bretagne (northwest of France) or food preparations that are rich in sausages and sauerkraut if you are in east of France. The main course is lined up with non vegetarian spreads, salads, rice, and pastas. You can enjoy these dishes with the wine, which is served throughout the meal.  Drink red wine with red meat and white wine with white meat.

 
Cheese

A French banquet is incomplete with a cheese board. A cheese board is lined with variety of cheeses on one side and fruits, nuts and baguette bread on the other side along with wines. Around 400 types of cheeses are used throughout France; if not 400 you can find at least 5-10 types of cheeses on cheese board.

 
Dessert

Mostly light desserts such as chocolate mousse, chocolate profiteroles, and apple tarts are served towards the end of the French banquet. These desserts are kept light so that they don't fall heavy on guests' stomach.

 
Coffee

Generally the hosts conduct this session to show gratitude towards guests. It is similar to the aperitif, but here guests are treated with coffee. Mostly coffee is served with a chocolate truffle or dark chocolate, because they boost the taste of the coffee. Those who don't drink coffee can also opt for tea. 

 
Digestif

The digestif marks the end of the banquet. Mostly strong alcoholic beverages like brandy, whisky or cognac is offered during digestif. These strong beverages or cigar are mostly served to men. 
Image courtesy: piantedosi.com 
How To Eat At French Banquets