How To Eat Peppercorns?
1 Nov 2010
For medicinal use or for cooking purposes, peppercorns, the dry fruit of the pepper vine had been used for centuries. Knowing how to eat peppercorns lets you not only spice up your recipes mildly but also add a distinct flavor and aroma to the cooked dishes that you prepare.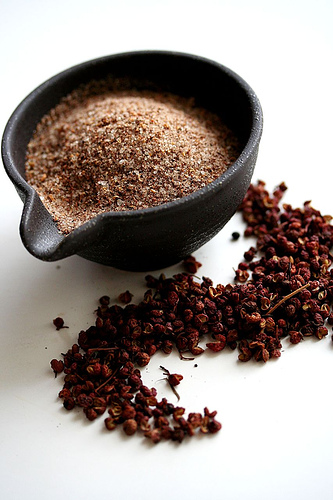 •    Eating Whole Peppercorns:

Using whole peppercorns in various dishes is quite common. However, if someone happens to bite one of those dried seeds, it may not be a very pleasant experience for him or her. Hence, while using whole peppercorns, ensure that the whole corns are removed before serving the dishes. Here are some dishes where whole peppercorns are used:
o    In Stews and Soups:

Whole peppercorns go very well with soups and stews. However, to avoid a direct bite of the seed, put the peppercorns and other spices in a piece of cheesecloth and then immerse that in the soup. This way, the flavors of the spices seep into the soup, but the corns are not scattered, thereby preventing you from biting one of the corn seeds.

o    Whole Peppercorns to Beverages:

An easy way of pepping up your drinks is to add whole peppercorns to it, and pink peppercorns are the best for this. Simply add some whole pink peppercorn seeds to a variety of cocktails (orange, cranberry, mango, etc) and get a drink that is perfectly balanced with various flavors - slightly sweet, slightly tangy and slightly spicy.

o    Whole Peppercorns to make Tea:

Making tea with whole peppercorns is a common practice, especially in India, and is believed to have huge medicinal properties, especially if you have got cold and cough. Simply boil some hot water and add whole peppercorns, cloves, ginger, bay leaves and sugar and make a concoction out of it. Drink a hot steaming cup of this and feel the instant relief that you get, especially from sore throat and running nose.

o    Whole Peppercorns with Desserts:

Pink peppercorns have a mild sweet taste and hence whole grains of this variety go quite well with desserts as well. Simply add a few seeds of corn to your fruit dessert or pudding or even cake and see how the flavors are superbly accentuated with a dash of this spice.

•    Ground Pepper:

The other common way of eating peppercorns is by grinding it to a powder. Whether you grind it in a mortar and a pestle or in a grinder, the flavors remain the same. However, the finer powder you can make, the better flavors it adds to your recipes.

o    Powdered Pepper added to Dishes:

A multi-purpose way of eating peppercorn is to powder it and then add it to various cooked dishes – sandwiches, pastas, soups, stews, salads, mashed potatoes – the list is truly endless. An easy way to not just pep your dishes up, but also to add a distinct flavor and aroma to them.

o    Peppercorn Rub:

A rub made out of ground peppercorns, mustard seeds, garlic powder, salt and olive oil, is quite commonly used for seasoning chicken, lamb or beef, especially when they are being grilled or seared. The rub acts as an additional flavor-packed layer that heightens the whole experience of eating grilled meats.
Peppercorns are one such ingredient that goes with almost all dishes and simply enhances their flavors. It is, in one word, a "versatile" spice. When added in the right form and in right proportions, it literally gives a different dimension to your dishes and makes them taste heavenly. At the same time, eating peppercorns is also good for your health. Hence, know how to eat peppercorns and make them part of your daily diet.
Photo Courtesy: steamykitchen.com
How To Eat Peppercorns?