Finger Food Ideas For A Formal Tea
30 Oct 2010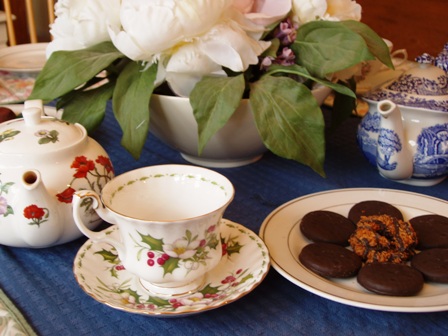 An Afternoon Tea Party always gives you room for experimentations and here are some finger food ideas to go for a formal tea.You can host it in a lavish manner, or make it a  formal affair or can go for a more warm and relaxed affair, where only close friends are invited. You can set a particular theme for the occasion or simply go for a very casual tea party with a set of friends, seated across a table, enjoying their tea, and snacks served in Grandmother's pretty china cutlery. Although there is no fixed preset as what food is to be served during a lavish, formal or a casual tea party, you can tweak the food ideas to suit the occasion.
Theresa Cheung, of Tea Bliss says ""For thousands of years, wise people have poured hot water over tea leaves and found pleasure in both the experience and the drink that is created."
The chief attraction of such tea parties is the tea. You can serve your guests, some high quality loose leaf teas.
Here is how you can go about tea and accompaniments
Assorted teas: You can choose to serve high quality loose leaf teas, which come in different flavors such as black tea, green, oolong, etc
Milks: Instead of serving simple tea you can offer some exciting milk options like Whipped cream or pouring cream, sweetened condensed milk, evaporated milk and coconut milk.
Sugars: You can choose to serve from various sugar substitutes or sweeteners like Sugar Cubes, Rock Sugar, White Sugar, Demerara Sugar, or even Sugar Swizzle Sticks. You can also try out other sugar substitutes such as Honey, Sugar Syrup, Maple Syrup, and Molasses.
Spices: Spices such as Cinnamon sticks, mint leaves, cardamom pods, cloves and fresh crystallized ginger slices, ground cinnamon, and nutmeg can be offered for stirring the tea.

Here are some finger food ideas for a formal tea:
During a formal tea party you can serve food in three courses.
In the first course you can serve savories like Cucumber Finger Sandwich, Tea Egg Salad Sandwich, Egg Mayo, Chicken Salad, Prawn Marie Rose, Tuna and Sweet corn, Cream cheese and salad, and Walnut Tea Sandwich.

You can also serve soups in combinations of whole or half sandwiches. Some of the popular soups that can be served during tea party are: potato soup, ham and pea soup, bean soup, and carrot soup.
In the second course you can serve scones. You can serve  warm raisins and chopped date scones, assorted by the Lemon Curd Scone Spread or decedent Devonshire cream spread.
In the third course you can serve pastries: High Tea Lemon Cookies, Strawberries Dipped in Chocolate, and Orange Poppy Seed Bread are some best choices of pastries. 
Armed with these finger food ideas to go at a formal tea have a wondeful tea time.
Image courtesy: annkroeker.files.wordpress.com
Finger Food Ideas For A Formal Tea