How To Serve Meat Fondue

22 Oct 2010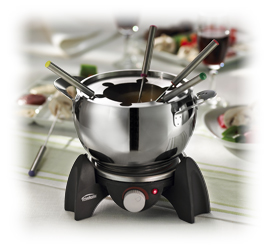 Fondue can be real fun – add a new dimension to your fondue party by learning how to serve meat fondue. No matter how grown up we are, there is always an extra excitement over cooking our own meal in any communal bowl. Serving meat fondue is little advanced than other types of fondue which are chocolate and cheese. However, this little extra effort is worth it and your guests are really going to appreciate all your hard work. Here are some great tips on serving meat fondue and making your fondue party a real successful one.
Preparation time – The preparatory work for serving meat fondue is not much difficult. You do not have to work for several hours also. You just need to heat the beef broth or the vegetable stock in a saucepan on your stove. Once it is well heated, you can transfer it to any fondue pot while it is boiling. Remember to trim away any kind of extra fat from the meat and cut it into small bite size pieces, so that it is convenient for dipping.
Arranging dippers – This is an easy task and you can let your kids also do this for you. Dippers need to be neatly arranged on a tray just next to the fondue set. This is completely your choice of what you wish to offer your guests. If you wish you can offer them shrimp, beef, pork or even chicken.
Serving your guests: This is a step which needs to be done patiently and tactfully. You have to assume that none of your guests are aware of the correct way of having a fondue. So, you need to show each of your guest how to tactfully spear a dipper and then hold the meat in the broth for around 5 minutes, so that the meat gets cooked.
Fondue etiquette rules – Your guests may not be aware of all fondue eating rules. So, take a little time to explain the rules of eating to all your guests. Do not forget to explain points like no touching of lips with the fondue fork, no double dipping and also no dropping of food in the fondue pot. Your guests might find it little difficult but you need to ensure that they are made at ease so that they can enjoy the meat fondue and not be tensed on eating it the correct way.
While serving the fondue, you need to give all your guests a separate plate with a fork so that they are able to transfer the food while it slowly cools down. Keep replenishing the dippers as well as the broth as and when needed.
 Image credits - trudeaucorp.com
How To Serve Meat Fondue