Top 10 Things To Eat When In Boston
12 Oct 2010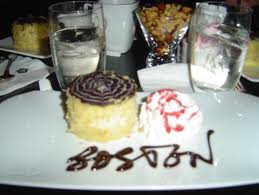 Top 10 Things To Eat When In Boston: A quick reference list
Boston is widely recognized as one of the oldest states in the US. What many people are not aware is that Boston boasts of some dishes unique to the state. With the list of top 10 things to eat when in Boston you have a chance to enjoy a few of these state delicacies.
Eating in Boston
Listed below are some of the popular local food dishes of Boston. Experience the local flavour with our tips on eating in Boston.
Boston cream pie: Boston crème pie is a rounded shape cake which is cut into layers and is layered with a filling of cream or custard. Then chocolate frosting is added to the cake. Powdered sugar or cherries may be sprinkled over the chocolate frosting.
Boston cream Doughnut: Boston cream doughnut is prepared by using custard as a filling in the doughnut and then using chocolate frosting as the topping. Vanilla cream may also be used as a stuffing.
Baked Beans: Baked beans essentially comprise of navy beans which are sometime baked but more often is stewed in gravy or sauce prepared using molasses and pork.
Cape Cod Potato chips: This is potato chips Company headquartered in Boston and is popular for their potato chips which are crunchier than regular varieties. The chips are shallow fried in kettles and are stirred with a rake which gives them a crunchier texture.
Corn muffins: Corn muffins are muffins that are prepared using cornmeal and are usually sweeter in taste than cornbread. It may used as a side dish with stew or may be consumed after layering it with butter.
Boston brown bread: Boston brown bread is popular bread which is dark in colour and slightly sweet in taste. It is prepared by steaming it in coffee cans. Molasses is used to add the sweetness to the bread and a variety of flours such as rye flour, whole wheat flour, wheat flour, graham flour etc are used.
Eagles' challenge burger: It is a burger made popular by the Eagle's Deli and Restaurant and is prepared by using beef, bacon, cheese, pickle etc.
Clam Chowder: Clam chowder is usually any regular chowder which contains clams and hot broth. Celery may be added along with diced potatoes and onions which has been sautéed in bacon drippings. It may be garnished using fresh parsley leaves.
Bulkie rolls: Bulkie rolls are sandwich rolls which are round in shape and may have a light crust. They are not distinctively sweet and are relatively harder and larger in size than hamburger buns. They are usually stuffed with roasted beef, bacon, cheese and egg, chicken breasts etc.
Clam Cake: Clam Cake is a common food in Boston and it is essentially a deep fried ball made with dough and stuffed with chopped clam. It is commonly served with clam chowder.
Our top 10 things to eat when in Boston may aid you in imbibing the local culture of Boston by enjoying some of their unique flavors. Eating in Boston may seem like a food adventure the next time you visit the place.
Image credit: bostonist.com
Top 10 Things To Eat When In Boston