Top 10 Things To Eat When In Hawaii: A cuisine as colorful as the state
12 Oct 2010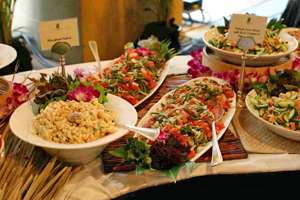 Hawaii!! The very mention of Hawaii islands conjures up imagery or vivid colors, sun kissed sands, and delicious, finger licking sea food.  Here is our list of the top 10 things to eat in Hawaii whenever you visit it next.                                                                                           
With a food cuisine as colorful and diverse as the Hawaiian culture, one would want to relish the best of the Hawaiian cuisine. With our guide, we aim to ensure that you do not miss out on any of the popular and must-have delicacies of Hawaiian food culture.
Eating In Hawaii
Hawaiian culture is a cauldron of different cultures such as Chinese, Japanese, Filipinos, Koreans, Portuguese etc and eating in Hawaii is a way to enjoy different cuisines.  All of these cultures brought their unique cuisines to Hawaii making it the melting pot of diverse flavours and cooking styles.  These are some of the popular ethnic dishes of Hawaii.
Plate Lunch: Plate lunch is a typical part of the Hawaiian food culture.  It is pan Asian and usually consists of two scoops of white rice, one portion of macaroni salad and an entree or topping. The topping has many options such as Chicken katsu which is essentially boneless chicken fried and mixed with bread crumbs or marinated beef called Kalbi, fried egg etc.
Kimchi: Kimchi is a dish popular in the Korean cuisine which is prepared by primarily using vegetables such as cucumber, napa cabbage, green onions and radish. The dish is served as a side dish and is topped with a variety of seasonings. 
Laulau: Laulau is an ethnic Hawaiian dish which is prepared using pork. The pork is wrapped in a taro or luau leaf with a few fishes kept in the centre and cooked in an underground oven called imu. The pork is covered with hot rocks and banana leaves are kept over it. The process is repeated until the pork gets completely cooked.
Poke:  It is a salad made from raw fish and served as an appetizer or as the main course in the Hawaiian cuisine. Tuna is the most important fish in the Hawaiian cuisine, and this dish includes yellow fish tuna which is marinated in Hawaiian salt. The fish is mixed with soy sauce, nuts, seaweed, sesame seeds etc.
Massa: It is commonly known as the Portuguese sweet bread and is prepared using milk and honey or sugar. It has a round shape and may be served as a side dish or dessert.
Lomi Salmon: It is a salad which is served as a side dish or accompaniment with the main course and is prepared from salmon and tomatoes green or Maui onions, pepper and crushed ice. 
Poi: It is considered the staple food of the Hawaiian cuisine and is prepared by mashing steamed or baked corm of the taro (or kalo in Hawaiian ) plant. Water is added until desired consistency is achieved.
Spam: Spam is one of the most consumed dishes in Hawaii and is used widely in preparing local dishes in various ways. It may be stir fried and served with rice or may be served roasted, mashed along with tofu etc.
Loco Moco: Loco-Moco is a traditional Hawaiian dish served as white rice topped with fried egg, hot brown gravy or a hamburger patty.
Saimin: Saimin is popular dish native to Hawaiian culture and is a type of a soft noodle soup. The noodles used are wheat egg noodles which are served with soup and garnished with chopped or sliced spam, green onions, nori etc.
With our list of the top 10 things to eat when in Hawaii you would be able to taste food belonging to different international and local cuisines.
Image Credit:  hawaiiforvisitors.com
Top 10 Things To Eat When In Hawaii: A Cuisine As Colorful As The State