How To Remove Fat From Chicken Broth
11 Oct 2010
If you are on a low-fat diet, then it is most essential to know about how to remove fat from chicken broth. The chicken broth is one of the most important ingredients of cooking delicious soups. You will never get the same taste in your favorite soup, if you substitute the chicken broth with clear water or something else. However, removing fat from chicken broth will allow you to enjoy the same taste and flavor for your favorite soup, as you will not require using water anymore instead of the chicken broth. This easy process will not involve any critical steps, but the only thing is that you should prepare the broth much ahead of time. Find the easy instructions on removing fat from chicken broth in the following steps.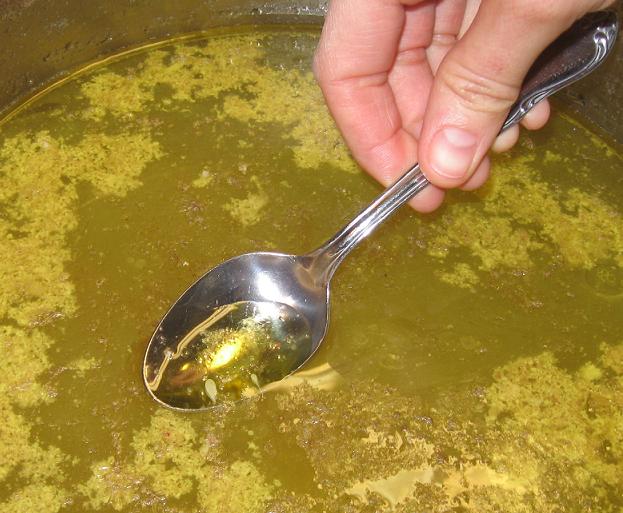 Step 1
Prepare the chicken broth and pour it into a clean and transparent glass bowl. You can use any type of glass bowl, but with a transparent one you can see through the amount of fat into the broth. Take this bowl and place it on the upper rack of the refrigerator. Cover the bowl and allow the broth to cool for couple of hours. A glass bowl can help you in this respect as it can store the temperature for longer time period.
Step 2
After 2-3 hours of cooling; open the refrigerator to bring the bowl out. When you remove the lid of the bowl, you can see that the fat content of the broth has got frozen to make a layer of frozen fat on the surface of the broth.
Step 3
This frozen fat can easily be removed from the broth. Take a small slotted spoon to skim off the fat chunks out of the broth. Collect these fat chunks in a small bowl. Even after removing the majority part of the fat chunks, you will find still some fat portions are floating in the broth. Use the slotted spoon to pick up the small portions of fat. If you feel this is difficult, then use a sieve to strain off the broth. But make sure that the sieve is fine enough to strain the tiniest small fat particles of the broth.
Step 4
If you want to make the broth completely free from fat, then repeat the previous steps starting from the process of cooling down the broth inside the refrigerator. This way, you can remove around 99% fat from the chicken broth.
Image Courtesy: thegfclady.com
How To Remove Fat From Chicken Broth