How To Eat Kalah Pacha - An Afghan Dish
6 Oct 2010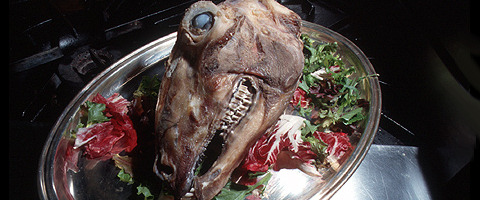 Recently when browsing the internet I came across a dish called Kalah Pacha and something told me this might be an interesting recipe to explore and thus, started my quest to learn how to eat Kalah Pacha and may be if possible also learn the nuances of preparing Kala Pacha. 
In due course of time, I realized the Kalah Pacha (also known as Kala Pacha or simply Pacha) is basically a dish from Afghanistan, but widely eaten in many other nations including Iran and Iraq. Well, since I have been living in the Americas for such a long time, it was almost impossible to find Kalah Pacha being prepared in my locality. Then, after several raised eye brows and frowns I finally met Begum Habiba, a warm and homely housewife, who had recently shifted base to my neighborhood (thank god to her husband). When I first mentioned Kalah Pacha to Begum Habiba, I was a bit skeptical, but then a look at the twinkle in her eyes at the mention of this traditional dish and all my doubts just vanished. Begum Habiba not only gave me loads of information about this dish but also managed to prepare a serving for me (albeit a week later). So, here is what I learnt from this lovely lady…
Kalah Pacha is basically sheep or beef head broth (no wonder this dish appears on many a weird food lists). To prepare Kala Pacha, the head is first skinned, cleaned from inside and slowly boiled for real long time. The boiled head is then seasoned with spices and styled in form of a soup or stew. 
According to Begum Habiba, Kalah Pacha is quite a popular breakfast dish in Afghanistan. In fact, wrestlers in Afghanistan are known to survive on a diet of Kalah Pacha to attain greater strength and prowess. However, my question was how do you eat Kala Pacha, to answer this; she actually prepared the dish for me and invited me for a late breakfast. 
There I learnt that like many other Afghan dishes, kalah pacha is eaten with hands; you are supposed to pick the good meaty parts of the head and savor them and leave the rest. The head comes complete with eyes, tongue, and ears. You can pick and choose the parts that you like and relish them with the broth that is served along. Begum Habiba told me that you could also eat the meaty parts with small pieces of traditional bread call Naan. How does it taste…well, once you get around the fact that you are actually eating the face of an animal, I must say Kala Pacha does taste good (a bit bony but delicious). 
So, that is my story of how I learnt to eat Kala Pacha – a dish definitely not meant for the faint hearted.
Image Credits: stuffucanuse.com
How To Eat Kalah Pacha - An Afghan Dish