How To Make Indian Dishes Healthier
4 Oct 2010
To many people Indian cuisine means that the food is hot, oily and spicy; which leads to a common conclusion that Indian dishes are unhealthy. But, there are various ways for making Indian dishes healthier.  If you can be little health conscious and serious about healthy cooking, then you can also follow the tips on how to make Indian dishes healthier.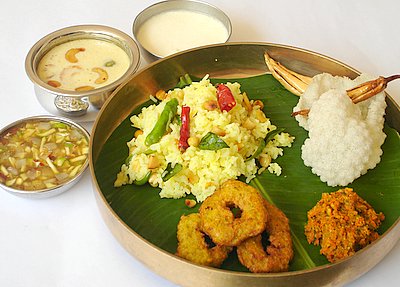 It is fact that most of the Indian restaurants use lot of spices and oils to make the food authentic and delicious. But, when you plan to cook at home, you should follow certain restrictions. These restrictions will help you to stay healthy, without destroying the authentic taste of the Indian cuisine.
Use Fresh Ingredients
This is one of the most important ways to maintain the nutrition value of the foods. Always make sure to use fresh vegetables, fresh meat or fish and even fresh herbs and spices. In case of Indian cuisine, most of the dishes are cooked with a variation of spices and herbs. So, the freshness of spices and herbs also play a major role in maintaining the healthiness of the food.
Use Homemade Paste
Pastes of spices are most essential for cooking the Indian style curry or gravy dishes. For this, nowadays you will find several readymade mixtures of spices. Although these are prepared by following the hygiene issue, but nothing can be as good as fresh homemade pastes. To make the pastes, initially you have to learn the proportion. But once you get used to it will become just a matter of few minutes. Using fresh spice pastes will also enhance the taste and aroma of the food to a large extent.
Use Low-fat Dairy Products
To prepare many of the Indian dishes, you have to use certain dairy products like curd or plain yogurt, cream, butter, milk etc. You must be careful to buy low-fat dairy products. Even if you have to use the full cream option, then try to use in less amount by mixing with the low-fat version.
Use Less Oil, Salt and Sugar
Most of the Indian menus will require lot of frying or cooking with oil. This is one of the issues, where you should be very cautious. While buying the oil check the nutrition content behind the pack. Normally, the vegetable oil or soyabean oil is comparatively better than high-fat and high-cholesterol oils. Secondly, you should control the amount of oil you use for your cooking. Use 1 or 2 tablespoons of oil, put your ingredients, lower the heat into low-medium setting and cover the pan with a lid. You will get almost same taste and flavor of your food, as it would have been with more oil. In addition to this, you should also be careful to use lesser amount of salt and sugar to make your food healthier.
Use Less Spices
As I mentioned earlier, that spices and herbs play an important role in case of Indian cooking. But nothing is good for your health, when you consume that in excess amount. Many people think that using plenty of spices and pastes make the food delicious. Even if it is taken as right, you will be losing the original taste of the main ingredients. You will also require putting more oil to make the spices and pastes mix with the main ingredients. So, at this point you should make some compromise in favor of your health to control your use of hot spices.
Image Courtesy: eatindianfood.com
How To Make Indian Dishes Healthier