How To Eat Healthy On A Road Trip?

1 Oct 2010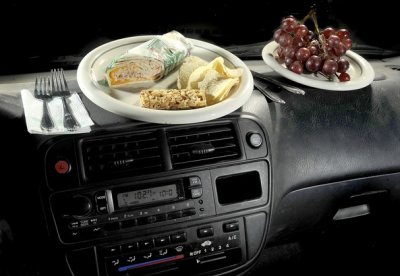 After traveling to several places by road, I have understood a few things on how to eat healthy on a road trip. You just need to make some planning before your trip on what to eat during your travel so that you can enjoy healthy food even when you are traveling. This shall also help you to know which food items you need to carry when you are traveling and what you shouldn't be carrying during your trip. It just takes a little planning on deciding how to  eat healthy.
• The night before you start your journey, you need to freeze all your reusable ice packs. If you will be staying at hotels in between, you will be able to freeze them but suppose you do not get the chance to stay in hotels, then you should have all the perishable goodies first.
                                                                                                                                                     

• Try not to have canned foods and any food which you are allergic to. Check the food labels before you eat any food.
                                                                                                                                                        

• You should also fill all your Ziploc bags with ice when you pass through convenience stores and gas stations while you are traveling. This shall ensure that your food doesn't get spoilt.
                                                                                                                                                     

• You can place all non perishable items in your bag so, that you find it easy reaching them whenever you want to. Carry a lot of bars, dried fruits, nuts, fruit drinks and other munchies which will stay long and be healthy too.
• Carry foods which are rich in proteins like peanut butter, cheese and soy milk. You can have them whenever you like. You can also keep buying such goodies from any convenience stores you come across. If you choose to have food at any restaurant you can have lean meat dishes, baked fish, eggs, tofu, lentils and of course grains such as bread as well as pasta. These items are healthy and will give you enough energy for the rest of your trip.
• When you are eating in a good restaurant and you find that there are a number of healthy eating options like fresh vegetables and soups, you can even pack some food for your trip, so that you can have it till you stop at the next place. Instead of overeating at a time you can pack some of your food for munching during the travel.
                                                                                                                                                  

  You should always keep buying fresh food whenever you can find any such source, even though you may already have your stock. You never know, you might not get such fresh goodies for long. You can buy healthier foods like corn nuts, 100% fruit juices, baked corn, trail mix, and pretzels for your journey. Keep restocking all the way and do not wait for your stock to get over before you can stock them up again.
Image credits:ireallylikefood.com,topnews.in
How To Eat Healthy On A Road Trip?