Choices For Tea-Time Sandwiches – A Great Way To Enjoy Tea
30 Sep 2010
Serving tea with sandwiches is certainly a great way to enjoy the afternoon meal. In fact, sometimes you may enjoy these small and savory sandwiches more than the tea. You should offer several choices of sandwiches, when you are throwing an afternoon tea party. Here are some of the best tea-time sandwich ideas just for you...
Cucumber & Cream Cheese Sandwich
It is the most common choice when it comes to tea sandwiches. Take the thinly cut cucumber slices and a combination of pepper and lemon juice. Spread them along with cream cheese on delicate white bread. Enjoy! It will never go out of style.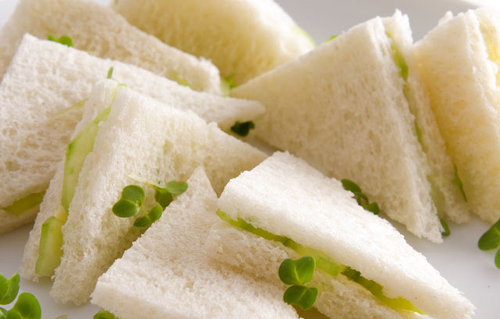 Opt for these spicy sauteed carrots mixed with soy sauce and use it as a filling for your sandwich. Do not forget to toast the bread though. A quick-yummy spicy sandwich is now born!
Use the beautiful devilled eggs to create a delicious sandwich. A great combo that you can eat when you are in a hurry.
You have a surefire hit on your hands when you dice the Omega-6 fatty acid rich salmon and spread it openly on a bed of cream cheese. The toasted bread lying underneath tastes simply wonderful and you cannot help but finish it off within minutes. 
A mouth watering chicken salad made into a sandwich can satiate you anywhere, anytime. Be sure to add some exotic pistachios and grapes and you will never ask for a different kind of sandwich again.
Image Courtesy: recipes.blogger, ocado, fatgirltrappedinaskinnybody, frugalchristianliving, amazingsandwiches, abutchinthekitchen 
Choices For Tea-Time Sandwiches – A Great Way To Enjoy Tea