What To Drink With Your Cigar?

24 Sep 2010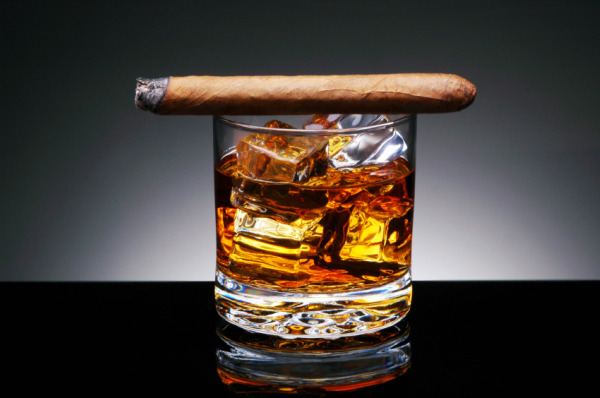 The cigar – patronized by the "Good"  in Clint Eastwood" and the "Ugly" in Eli Wallach(The "Bad" prefers a pipe though, in the movie!)  … This roll of tobacco is not only a style –statement, but also a compliment to one's moods and occasions. How to drink it in with all the gush and fervor of a cigar? What to drink with your cigar?
While "drinking in the smoke" of a cigar, an accompaniment in the way of a drink can render a fulfilling experience .

Here are a few tips on what to drink with your cigar , without a 'smokescreen' of doubt.
•    Coffee drinks : Coffee gels  well with the taste of tobacco. All types of coffee from cappuccino, Café mocha , to Cuban coffee;  make smoking, a 'puff with pride' experience.
•    Port : The Late bottled vintage wins hands down as a 'darling drink 'to go with your cigar. The Portugal-make vintage porto with its sweet taste also makes a great dessert-drink with the cigar, but doesn't last long once opened and is bit on the expensive side.
•    Kahlua : Kahlua drinks such as Nutty Irishman, Mudslide and Black Russian drink in the smoke of cigar making you join hands with the spirit of 'smoking 'n' drinking' . Kahlua no doubt answers fervently as to what to drink with your cigar?
•    Scotch : Vouched for its distinguished flavor, Scotch is claimed the best accompaniment for cigar. The tobacco taste and the taste of Scotch(the single-malt variety) remain distinct and neither does one get overpowered by the other.
•    Stinger : A blending of crème de menthe with brandy or vodka can deliver the ultimate drink for your cigar. The heady cocktail is  a favorite of New Yorkers and other worldwide patrons where it is relished best with cigars.
•    Martini  : With  a mélange of flavors on deck, Martini is highly alcohol-based and goes well with the taste of tobacco . What to drink with your cigar, is no unquenchable quest when Martini is around the corner- doused in alcohol , to be  woken up by its tobacco compatriot!
•    India Pale Ale : Beers generally taste good with mild cigars  but the India Pale Ale is so compatible that it can partner with any type of cigar even the fully flavored ones. So India Pale Ale is a blindly chosen drink with cigar.
What to drink with your cigar, to blend taste and preferences with a variety of drinks available, takes you on an expedition where the blender meets up to the  drinker's taste, over a pack of cigars!
Photo Courtesy :  living-las-vegas.com 
What To Drink With Your Cigar?