How to eat Picadillo? – The 'pick-me-up-for-any-food-type' Mexican Delicacy

15 Sep 2010
With the globalization of everything to anything no cuisine is in the confines of its 'culture'. Additionally, the historic, avid explorers transcended the barriers of geography to bring back home the 'native touch' of the region. As in the case of Picadillos, which traces its antecedents in the Mexican, Cuban, Spanish and Latin American cuisine. How to eat Picadillo the Mexican way?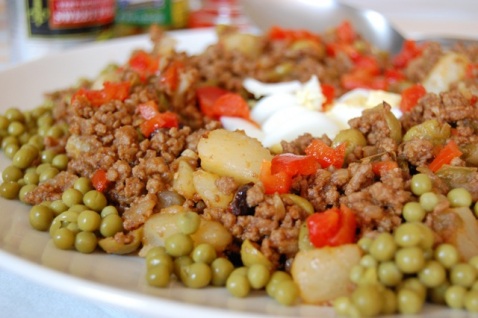 Let us first define Picadillos. It is nothing but ground meat (beef) sauced up with a variety of indigenous spices.
Eating Picadillos can be fun as it can be used as a base for numerous other dishes, adding spice to its variety.
Here are a few tips on eating Picadillos:
•    Picadillos can stuff-up many a Mexican 'pocket-dishes' such as empanadas. Tacos, burritos and even tortillas can be used to wrap up the 'minced meat'.  This way Picadillo serves as a 'multi-purpose' ingredient to a main-course.
•    Picadillo can be used to complement some main dishes such as black-bean  rice- One scrumptious way to pep up your rice-dish with a delectable combination, eating picadillos couldn't be more tasteful
•    Picadillos go well with potatoes. You can add fried, (till soft and golden-brown) finely chopped potatoes to the picadillo mixture and fold it up till it gets set.
•    Refried beans the Mexican style make a good side for Picadillos. So here is way to add a zesty tip to eating the dish.
•    As a famous Mexican dish, picadillos make a good side for another popular Mexican main course – Mexican rice (onions, garlic, green bell-pepper, corn kernels).
•    How about a good side for your nachos (fried, crispy tortillas topped by a spread of cheese)? Compliment it with Picadillos, making it an irresistible combination and; you have a 'handsome' tip on how to eat picadillos.
•    Toastadas(meaning toasted-base in Spanish) in the way of Chalupas  can turn out be a fulsome meal when served with Picadillos. Chalupas are made of masa dough which is pressed on the periphery to produce a thin-layer. The thin-layer is latter shaped into a corn –cup filled with stuffing(shredded chicken, minced meat, with all the seasoning ). Here is one 'stuffing' which combined with  our dish can make you relish the way you eat Picadillos.
Well, you now know the basics of Picadillo , and as a passionate foodie, you could make way for different avenues of the Mexican cuisine and make the best of how to eat Picadillo.
Photo Courtesy : sugarcookiebrooklyn.wordpress.com
How To Eat Picadillo? – The 'pick-me-up-for-any-food-type' Mexican Delicacy