How To Eat Longaniza? - Linking To The Mexican Sausage Tradition

15 Sep 2010
If you are a patron of sausages, then Longaniza won't be unfamiliar to you. The Spanish sausage has spread and wide and to its next best home – namely Mexico. How to eat Longaniza in Mexico?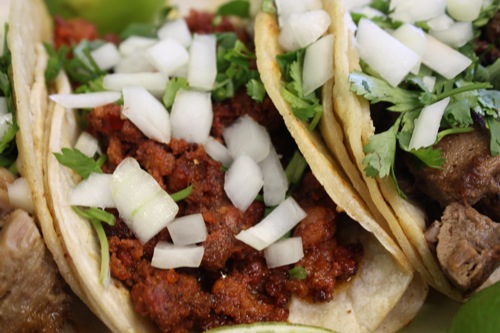 Longaniza  shares its culinary kingdom with Philippines as well . It is similar to a chorizo but more firmer and longer. The meat of longaniza can be that of beef, tuna or chicken, whereas the Spanish chorizos are exclusively made from pork meat.
The Mexican Longaniza's meat is peppered with paprika, salt, vinegar, red pepper and other spices.
What makes the Longaniza special? The sausages are all air-cured, spiced up with smoked paprika (Spanish- Pimenton), which renders the flavor and the color of red to it.
Before we dig into the ways of eating longaniza, the varieties that are available, will help us better with the fork, spoon and the sides available for the Mexican dish
There are two distinct types of longaniza available. They are :
•    Castillan Longaniza (Longaniza castellana) : Which is a make of  fat pork, garlic, hot pimenton, sweet pimenton, oregano ,and  salt .
•    Andalusian Longaniza (Longaniza andaluza) : Here the ingredients used are pork, cinnamon, aniseed, pimenton, pepper, vinegar  and garlic .
Now, let us explore on to how to eat longaniza and savor it the best way.
•    Longaniza can be eaten with tortillas, where you simply wrap up the sausage with a drizzle of the red and green sauce. A spread of cheese with shredded cabbage or a layer or two of lettuce leaves  wrapped up in the tortilla , makes it scrumptious to eat the longaniza.
•    The sausage can also be eaten with simple dips such as the Mexican red sauce(salsa de tomate rojo o jitomate) and green sauce(salsa de tomate verde).
•    Longaniza at the time of serving can be garnished with fresh cilantro leaves, which adds a fresh flavor to the sausage.
•    Fresh slices of lemon and lime and thinly sliced onions , juice up the flavor of the sausage quenching your thirst on how to eat Longaniza.
•    To render a tinge of sweetness to the longaniza, you could also eat it with the fruity, corn pico-de-gallo (salsa fresca) made of fruit-salad (water-melon, orange, jicama with an occasional addition of melon and papaya ) tossed in lime juice and chamoy (hot-sauce) and pepped with some salty chili powder.
The tips enumerate how to eat longaniza, and with your creative zest exploring the culinary kingdom of  Mexico, you could innovate with your own techniques to make your experience of eating longaniza a delicious affair!
Photo Courtesy : newyork.seriouseats.com
How To Eat Longaniza? - Linking To The Mexican Sausage Tradition