How to eat empanadas? – Stuff It Up To Your Delight

15 Sep 2010
A co-traveler in the bus, enroute to my work-place took out a roll of something patty-like. His Mexican descent was evident and he asked whether I would like to have a bite of the empanadas . An irresistible offer, which  tasted scrumptious as well. Exploring further about this Spanish/Mexican treat, I garnered a few tips on how to eat empanadas, which I am going to share with you.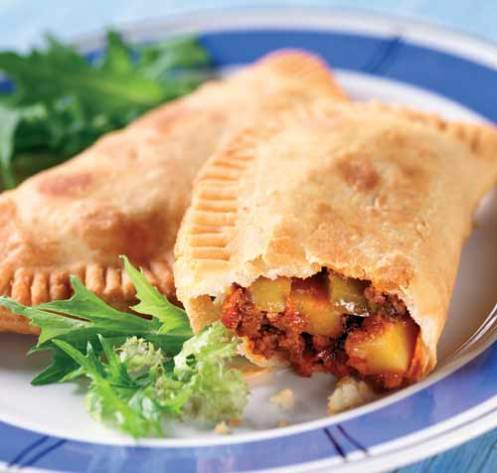 Empanadas in Spanish mean 'wrapped in bread'. The dough usually made out of wheat, salt and water (and seasoned with spices, if desired)  is rolled out and folded to form a semi-circle with the stuffing or filling inside.
What makes empanadas so special? These tasty, portable food–items are so versatile that they can be eaten as a snack or a wholesome meal. More so they serve as handy travel-food items, especially, if you are the kind who dash off to work with not much time to sit and eat breakfast (as my Mexican co-traveler).
The empanadas are so popular a food-item that they have transcended cultures to be called Cornish patties, Italian calzones and Indian samosas.
These Mexican stuffed pies can be made in a variety of ways, so that you have varied ways to savor and eat empanadas. The stuffed pastries can either be baked, deep-fried or shallow- fried depending upon its region of origin in Mexico.
How to eat empanadas and enjoy the typical Mexican specialty?
•    The fillings in empanadas can be guava, pumpkin, sweet potato, yam, cheese, chicken, meat or seafood. With this variety fare on offer, you can eat the empanadas with greater relish.
•    Empanadas are usually served fresh and hot, when fried. But as a bake you can also store it in the refrigerator and reheat it and eat.
•    Home-made salsa or store-bought ones serves as a good dip or side dish for your empanadas.
The other variations of empanadas  as according to the stuffing or the regional cuisine are :
•    Empanadas de Atún (Tuna empanadas): Which uses tuna with other seasonings for stuffing.
•    Empanadas de Espinaca (Spinach empanadas): Where minced onion, garlic and spinach is used for the stuffing.
•    Empanadas Dulces (Dessert empanadas): With fruit preserves such as apples, pineapples, and guava, the sweet taste is a temptation for the sweet tooth presenting a sweetish way to eat empanadas.
Well, that wraps up on the delicious treat of the Mexican delicacy, which you would find it hard to resist with the aromatic spices and the Mexican zeal for cooking, throwing open the doors on how to eat empanadas.
Photo Courtesy : cocinaargentina.wordpress.com
How To Eat Empanadas? – Stuff It Up To Your Delight