How To Eat Consomme – Traditional Meat Soup

8 Sep 2010
Mexican cuisine offers a variety in soups – I got to taste one such clear soup which is commonly known as consommé. I learnt how to eat consommé when I visited Jacob's family on the occasion of his sister's engagement. I tasted this richly flavored stock and was amazed to learn its making process which involved the refining of egg protein. I learnt that consommé is regarded as the most appreciated soups by the numerous tourists who visit Mexico every year...and hence much in demand.
Eating consommé is more of a tradition…every restaurant offers consommé in its menu list. Sometimes a variation is brought in the soup by changing its ingredients. Whenever you have consommé you will notice that the soup is always served very hot and it cools down extremely fast…in fact, many chefs believe that consommé cools down faster than all other soup. When it cools down, you will notice that it has turned into a gel. Sounds amazing...isn't it? Here are some more facts about consommé which you will love to know.
• You will be eating consommé with garnishes always. This soup is said to be incomplete without the garnishes.
• Different restaurants and chefs have different garnishes for this soup. This is how their soup tastes and looks different from other soups which are offered. You can eat this soup with a lovely splash of sherry or egg yolk. You will also love to eat the garnish which is made of cut vegetables and custards.
• Consomme is served as an appetizer in most restaurants and special events when it is served.
• You can eat consommé when you are having the traditional 7 course meal format.
• Consomme is loved by food lovers who love the taste of rich soups. They do not feel heavy or uncomfortable after having this soup – this is how this soup is different from all other soups which are on offer.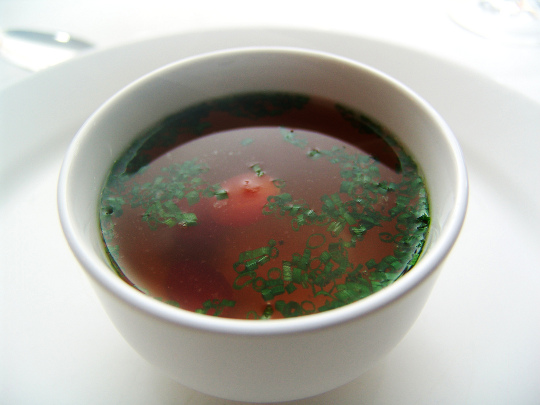 Variations of consommé:
• Double consommé : This is said to be of double strength...it is prepared in different styles. In this special soup you might have double quantity of meat... or the spices might be double. This is certainly heavier than other soups which are available. It has a stock or broth instead of water. It is served during festivals and other occasions.
• Cold jellied consommé – as suggested by its name, you will be eating this soup very cold. The unique feature of consommé is gelatin which is included in it.
Tips to eat consommé:
• You can eat it with bolillos or other bread.
• It also tastes wonderful when eaten with green rice.
• Eat it as a part of your meal – don't forget to have chilled wine or beer after you have the soup.
Image credits: thekitchn.com, chickennoodelesoup.com
How To Eat Consomme – Traditional Meat Soup