How To Eat Menudo - Beef Stomach Stew

7 Sep 2010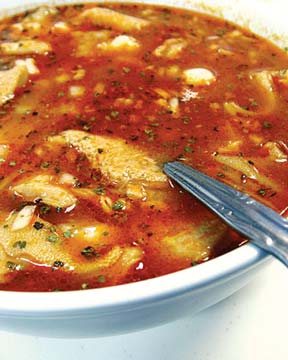 I have seen food experts doing extensive research on traditional foods of a region. I learnt how to eat menudo when I was a part of such a team which was completing its survey on traditional dishes of Mexico. Menudo is one such traditional dish which is made of  beef stomach. Yes – you have read it right! It is a beef stomach delicacy.
When you are eating menudo you are actually eating beef stomach in a clear broth. This broth has a red chili base – sometimes a variation in brought in the base when chili is replaced with some other hot spices like pepper. Menudo is a normally eaten on special occasions when the family has gathered together. I ate menudo in its authentic style during such a family gathering. I noticed that before serving us -  chopped onions, cilantro and crushed peppers were added. It gave the dish a very unique flavor and made it very spicy. You need to eat menudo to know how it tastes exactly.
We had menudo with bread and tortilla. We were told that menudo was chilled and then reheated so that we are able to get a much concentrated flavor of the dish.
Menudo is a traditional dish of Mexico, but with time many variations have been brought into the dish.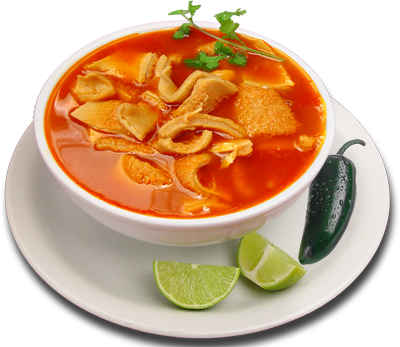 • If you eat this dish in Northern Mexico, you will find that it tastes a little different. This is because it is served after adding hominy.
• In the north western states you will be able to eat the white variation of the dish only. This is known as blanco.
• In most restaurants of USA, patas are added. Patas is pigs feet. However, if you choose to have menudo, in other places you wont be able to eat it this way.
• In central Mexico, you get to eat menudo which is made of sheep stomach. Thus, it is a stew which is made from a very rare part - sheep stomach. If you don't prefer it, you can have 'pancitas' – this is a stew which is made from beef stomach.
• If you are eager to have the red variation of this stew, you have to visit the restaurants of Northern State – Texas. Normally, in restaurants of Texas, you will get the opportunity to have menudo of yellow color since yellow hominy is used in the making of the stew.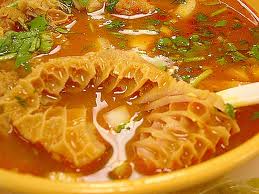 Menudo is one of those dishes which can be prepared at home – especially when all relatives gather together, to celebrate occasions like births or Christmas. The cooking time for this stew is quite long due and the preparation of this stew is very labor intensive – thus, it is said to be one of those dishes which involves family participation. Thus, next time you are planning a party or gathering with your near and dear ones do not forget to include menudo in your menu.
Image courtesy:
teenchennai.com, elblogdelapuyaka.blogspot,forumplanet.gamespy, scooterhawgs.blogspot.
How To Eat Menudo - Beef Stomach Stew