How To Eat Salsa - Tomato based Dip

6 Sep 2010
My mom prepared various types of sauces – all of which were tomato based, spicy and hot. Later on, I realized that these were actually variations of salsa which was typical of Mexican food…thus, I didn't have to learn how to eat salsa. Salsa was unknowingly a part of my childhood food habits and it still continues to be so. I love this tomato based, spicy and hot sauce which has the capacity to make any type of food mouthwatering.

  
Mexican salsas are famous all over the world – in fact you get the chance to eat Mexican salsa in its several variations in different parts of the world brought about by changing its spices and meeting the tastes of the local demand. Here are some ways to eat this salsa.
Salsa roja or red sauce is made of chili peppers, onions, garlic and cilantro. You can eat this salsa with any Mexican food or with southwestern cuisine. Dip your favorite raw vegetable to salsa roja before eating it…you will be amazed by its taste.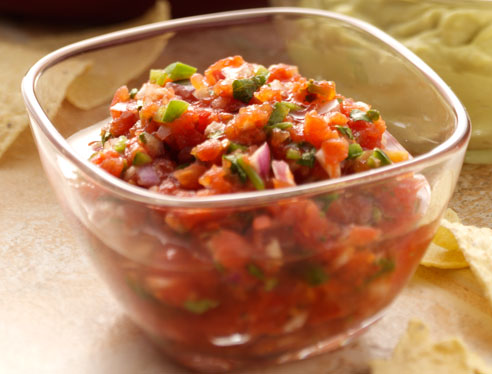 Salsa cruda which means raw sauce is also quite popular among the Mexican food lovers. I have tasted this sauce and found it to be a great blend of lime juice, tomatoes, cilantro leaves and several other raw ingredients. The flavor of the various raw ingredients in this salsa makes it different from other types of salsa. You can eat it with your rice meal, chicken dumplings, fried chicken or even soups and pita bread.
If you are fond of herbs, you need to try out salsa verde. This is made of tomatoes and some nutritious herbs. This can be eaten as a seasoning or topping for your bread. You can eat cubes of fried meat by dipping into salsa verde.
My mom often prepared salsa negra which is typical black sauce and made with dried chilis and chopped garlic. I loved to eat it with chicken dumplings or pita bread. If you are fond of deep fried chicken, barbecued beef or roasted turkey you can use salsa negra as your favorite dip.
Mango salsa is a great variation from the common types of salsa we get to eat. This is a spicy sauce which is little sweet and made with mangoes. It can be used as toppings for nachos. You can eat it with your grilled fish dishes or grilled chicken – you will love the flavors offered by this dish to your fish or chicken recipe.
Salsa ranchera is a typical ranch style sauce that is made from tomatoes, chillies and different spices. I always had sala ranchera warm to enjoy its soupy and thick quality. It offers a great taste to dumplings, chops, fried seafood and also bread.
So, these are just some of the ways in which you have savor the ever o delectable salsa. If you have more ideas, do share them with me through comments. 
Image courtesy: qwickstep.com, isabelscantina, blogsoninet, rd.com
How To Eat Salsa - Tomato Based Dip