How To Eat Caldo - Soup

6 Sep 2010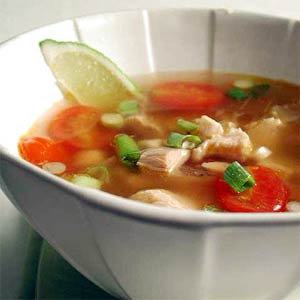 Caldo means broth – this can be a beef broth, chicken broth or chicken stock. Those who have a liking for Mexican dishes normally know how to eat caldo. If you visit any Mexican restaurant, you will get to see a whole range of caldo soups being served along with other foods. This soup is made with chicken or beef as the main ingredient along with other vegetables like carrots, cabbage and beans. This makes a great menu item and you do not need any kind of side dishes with this soup too.
There are many versions of caldo. You must have noticed some of these in the menu charts of restaurants, but failed to realize what it is all about. Here are some facts to know before eating caldo:    
Caldo de pollo:

• This is a very popular Latin American soup which is made from chicken and fresh vegetables.

• The unique feature of this soup is that it makes use of whole chicken pieces and not shredded chicken or chopped chicken as it happens in other soups.

• Vegetables are also cut in a unique style. I was amazed to see whole cabbage leaves added to the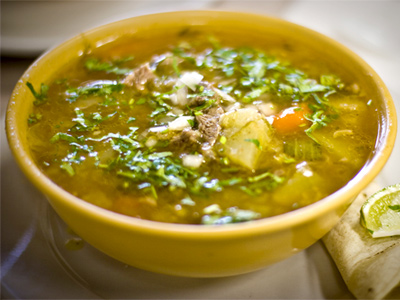 soup – potatoes were not cubed - they were just halved into two slices. The vegetables are made soft and delicious to eat.

• You can bring about a variation in this soup by changing the vegetables which are used. You can add chopped carrots and zucchini for additional taste and flavor.
Caldo de Res:

• You can have this soup in all leading restaurants of Mexico or places where Mexican food is served.

• This is an authentic Mexican beef soup.

• This soup is prepared at homes on regular basis as it has several restorative properties. You can have this soup when you are sick and you need energy and stamina.

• This is said to be a savory hot meal and is best eaten in cold weather.

• Add some finely chopped onions and cilantro as its topping before eating.

• Caldo de Res can be eaten with crusty bread.
Arroz caldo: I got the chance to have this chicken and rice soup during my stay in Mexico. I still remember the taste of tender chicken and the fresh aroma of fish sauce in the soup.

• This is a lovely combination of chicken and rice in a soupy form.

• It is served as an appetizer in parties and festivals.

• You will love the taste of crispy stir fried chicken in the soup. The pieces of chicken get tender and are normally of bite size.

• You will be served with chopped ginger and garlic as toppings.

• It can be eaten as a light lunch with crusted bread.
So, that the way you would savor caldo in the true Mexican style. Do you have any more suggestions on how to eat caldo..do share it with me through comments. 
Image courtesy: find.myrecipes.com, holamun2.com, canarygirl.vox
How To Eat Caldo - Soup