HOW TO EAT FUL (FUL MEDAMES)
30 Aug 2010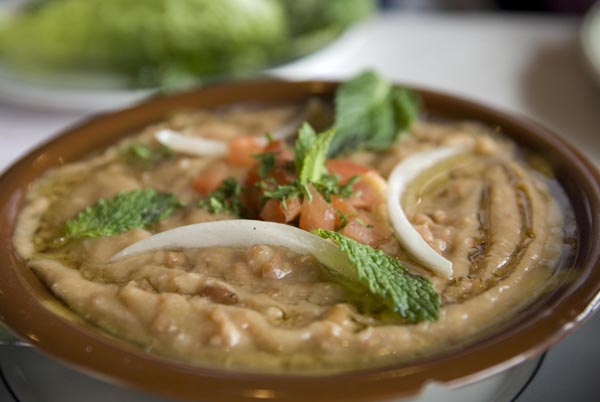 A dish that has been around since, the ancient days of Egypt, Ful Medames, or the 'fūl mudamma' Fūl (pronounced "FOOL"), in Arabic, is a kind of dried fava bean stew, which comprises of cooked and mashed fava beans with  olive oil, chopped parsley, onion, garlic and lemon juice. It is often served for breakfast. It is popular in the cuisines of Egypt, Somalia, Sudan, the Levant and Saudi Arabia, and has been declared the national dish of Egypt. 
The dish's name derives from the Egyptian Arabic: 'ful' is the Egyptian word for fava beans, and 'medames' is a Coptic word meaning "buried." The second word hints at the original cooking method, which involved burying a sealed pot of water and beans under hot coals.
A common breakfast dish, Ful was commonly popular as a humble peasant food due to its robust, nutritious and economical ingredients. Many people prefer a breakfast of Ful in the morning the fasting month of Ramzan. 
Ful is commonly eaten as a breakfast dish, with eggs.  Other regional variations include the Somalian style of eating ful with a pancake-like bread like laxoox, or eating ful with flatbread and mitmita powder like people in Ethiopia do. 
The combination of ful and hummus is popular in Syria, Lebanon and Israel.
Here is a common recipe to make Ful at home:
Ingredients:
1 15-ounce can fava beans
1 1/2 tablespoons olive oil
1 medium onion, finely chopped
1 large tomato, finely chopped
1 teaspoon ground cumin
1/4 cup chopped fresh parsley
1-2 tablespoons fresh lemon juice, to taste
Salt and pepper to taste
Grilled flatbread
2 eggs
Method: 
Drain and rinse the beans, then pour into a medium saucepan. Bring to a boil and simmer for five minutes, breaking up roughly with a fork. 
Stir in the olive oil, onion, tomato, cumin, lemon juice, salt, pepper, and most of the parsley. Continue cooking for five minutes.
In the meantime, grill the flatbread or sear it with a little olive oil in a skillet. Fry the eggs in some olive oil in a separate skillet, leaving the yolks runny.
Serve the bean mixture warm with the fried eggs and flatbread.
(pic courtesy: www.lthforum.com)
HOW TO EAT FUL (FUL MEDAMES)