How To Eat Foie De Veau
28 Aug 2010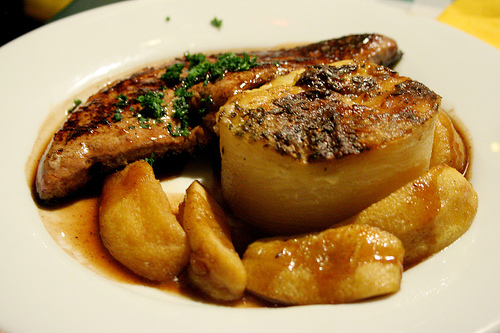 "I hate liver – I can't stand its very sight!" my son would often shriek, but this was until I taught him how to eat Foie De Veau. If you are new to French cuisine then you might be wondering what Foie De Veau is, or what is so special about it that eating Foie De Veau made my die-hard, liver-hating son start liking this organ meat…well read on and you will get your answers
Foie De Veau or Calf's liver is a common savory dish and widely served in the French speaking nations of the world. Unlike other liver dishes, Foie De Veau has a soft and tender texture, so luxurious that after the first bite you would literally yearn to dig into the dish over and over again. The secret to this meat quality is the use of a very young calf's liver, as the calf grows older, the liver gets tougher and has a stronger flavor and color.  
There are several ways in which Foie De Veau is prepared; however, one thing that each method stresses upon is minimalism of ingredients and simplicity of technique. The meat is so rich in its subtlety that overpowering it with accoutrements would only ruin the dish. Traditionally, Foie De Veau may be gently sautéed, stewed, or braised. Light flour dusting, red wine, vinegar, butter, or tomato sauce are the only ingredients (other than salt and pepper of course) that are required to prepare Foie De Veau.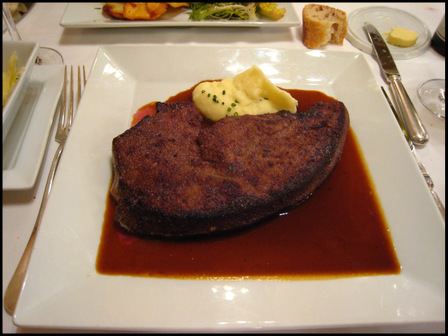 At formal dining events Foie De Veau is typically served as a second course, with bread, potatoes, or an assortment of vegetables on the side. To appreciate the true flavors of the meat, slice it into a small bite sized piece, coat it with the sauce, (red wine, tomato, honey vinegar, garlic butter, etc.), and relish the sweet and earthy flavors. The meat is so soft and tender that you won't need to chew at all, but still it is a good idea to chew the liver a few times to extract all the amazing flavors of this pinkish pale liver. And of course, don't forget the wine! No French dining experience is complete without pairing each food with the respective wine. The sweet yet earthy flavors of Foie De Veau pair best with red wines like Merlot, Caberenet, and Medoc. 
So, that's how you eat Foie De Veau – a liver dish like none other found around the world!
Image credits: umami.typepad.com, kungfoodpanda.com
How To Eat Foie De Veau