How to Eat Mozzarelline Fritte
27 Aug 2010
If you adore Italian fares, then a must try out dish is Mozzarelline Fritte. In this blog, I will tell you how to eat Mozzarelline Fritte just like the Italians do. Once you know how to eat Mozzarelline Fritte, you can eat it with the right combination of accompaniments. Mozzarelline Fritte is a very popular dish in Italy and is a food for all ages. If you love Italian food and if you are a fan of cheeses, then, this is one dish which you cannot afford to give a miss. So, here I am on my way to reveal to you the various ways on how to eat Mozzarelline Fritte.
Discover the taste of Mozzarelline Fritte
Mozzarelline Fritte is made from mozzarella cheese. So, you can very well guess that the main flavor of this dish is going to come from the cheese. Take a bite of a small Mozzarelline Fritte and the chewy mozzarella will burst into a delicious flavor inside your mouth. Mozzarelline Fritte are small balls of cheese which have been deep fried. Since these cheese balls are dipped in flour and egg mixture and coated with breadcrumbs, the end result is a crunchy snack. You can feel the crispy outer texture of the Mozzarelline Fritte with a soft and creamy core. These golden deep fried balls of mozzarella not only look great on the plate, but also taste yummy inside the mouth.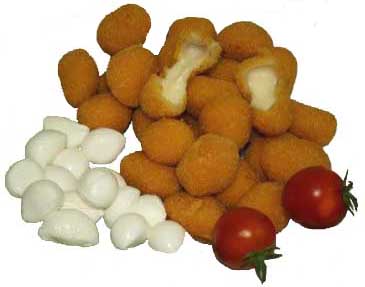 Tips on how to eat Mozzarelline Fritte
This is one delicacy which comes loaded with calories. So, if you are health conscious, I would advise you to feast on these Italian munchies only occasionally. Also, this is a vegetarian recipe, so you can enjoy it even if you are a strict veggie. But then, if you do not have eggs, you can simply prepare your Mozzarelline Fritte without the egg coating and eat them hot. Mozzarelline Fritte is best eaten hot and crispy. You can use small toothpicks to pick a ball of Mozzarelline Fritte and pop it into your mouth. You can use a dipping sauce of your choice with this amazing snack. While, these deep fried cheese balls make for excellent casual snacks for the evening, you can always relish them as starters before a main course meal during lunch or dinner. You can also enjoy Mozzarelline Fritte along with salads and drinks.
Picture Source: ricettariocucina.com
How To Eat Mozzarelline Fritte