How to Eat Kaeng Phanaeng
27 Aug 2010
If you love Thai food, then you must know how to eat Kaeng Phanaeng. Kaeng Phanaeng is a delicious Thai recipe whose main ingredients are the Phanaeng curry paste, coconut cream and meat. This is a non-vegetarian dish which requires no special expertise to eat, but, if you know how to eat Kaeng Phanaeng at the right time and with the perfect accompaniments, you can enjoy Kaeng Phanaeng at its best. So, here in this blog I will tell how to eat Kaeng Phanaeng and if you are interested to know about it, then, read on…
Flavors of Kaeng Phanaeng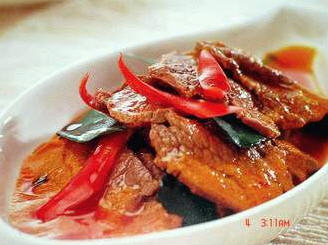 Kaeng Phanaeng is undoubtedly one of the ten best Thai foods. Although this dish uses beef traditionally, you can always eat Kaeng Phanaeng with chicken or your choice of meat. Kaeng Phanaeng is a red colored thick curry, whose bright color and intense aroma cannot keep you away from the food for long. Many food experts feel that Kaeng Phanaeng has a strong Indian influence. So, if you are fond of Indian foods too, you will love Kaeng Phanaeng, no matter what. If you are a fan of seafood, you can also eat the Kaeng Phanaeng cooked with soft shelled crabs or prawns. While most Thai curries are usually high on the spicy factor, this is a dish which I can safely call a milder version of these spicy Thai curries. While savoring this delicious curry, you can feel the hotness of dried chili peppers, the sourness of lemongrass and the wonderful aroma of coriander root, coriander seeds and cumin seeds. We will see that the gravy of this dish is very thick and the smooth texture is contributed by the pasted shrimps, shallots, galangal, peanuts and garlic. To this is added a liberal dose of coconut milk, which adds a new level of creaminess to the entire dish.
Tips on eating Kaeng Phanaeng
Since the Kaeng Phanaeng is a curry, you should eat it with rice or noodles. Kaeng Phanaeng is basically served as a side dish for lunch or dinner. It tastes best when eaten in combination with Thai rice or Thai rice noodles. Also, eat the meal when it's still hot. 
Picture Source: amazingthaifood.net
How To Eat Kaeng Phanaeng