How To Eat Dolmadakia?
25 Aug 2010
If you think knowing how to eat Dolmadakia in the typical Greek way is complicated, then pause for a while and give it a rethink. This is one authentic Greek recipe that is simple to cook, great to taste and very easy to eat.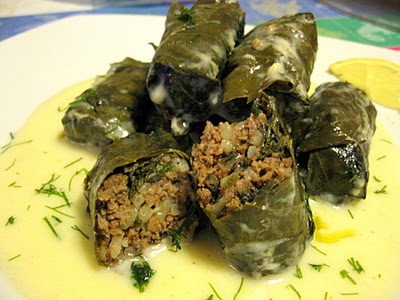 Dolmadakia, the delicate little parcels of great taste have derived their names from the Turkish word "dolma" meaning "stuffed". This traditional Greek recipe involves grape leaves, which are stuffed with different ingredients to form delicious bites.
There are different kinds of Dolmadakia available and as such, there are different ways of eating Dolmadakia. Rice or pudding rice is an important ingredient that is essentially considered for making Dolmadakia. You can make the vegetarian versions of them, stuffing the grape leaves with different vegetables along with the rice. You can also stuff the Dolmadakia with various meats, like lamb, beef, chicken and so on. For seafood lovers, shrimps, crabs, prawns, etc also act as great stuffing. It is the grape leaves that make this dish so unique. However, if grape vines are not readily available, you can also replace them with cabbages.
Greek food in general does not believe in using a lot of sauces and spices. Therefore, even while making Dolmadakia, not many sauces are used. Like most of the Greek dishes, olive oil is the base for making Dolmadakia, which adds some flavor to this delicious recipe. Eating Dolmadakia with a dash of lemon juice is another common practice. Some people also love using the avgolemeno sauce (a sauce made up of eggs and lemons). This sauce singly can take the pleasures of eating Dolmadakia to a different level.
For eating Dolmadakia like the native Greeks, you do not need forks or spoons or knives. All you need to use while eating these small parcels are your little fingers. The grape vines are shaped as rolls in which the stuffing is placed. Therefore, in order to eat them, you need to open the leaves and then have the stuffing and portions of the cooked leaves together. Therefore, using hands is the best way of eating Dolmadakia. Dolmadakia, being small rolls of deliciousness, are mainly eaten as appetizers or evening snacks.
Thus, if the goodness of vegetables, clubbed with the richness of meat and a storehouse of good taste is what you are looking, try this authentic Greek dish. These small bundles of joy are never going to fail you.
Photo Courtesy: 4.bp.blogspot.com
How To Eat Dolmadakia?