How To Eat Tiganita - Greek Style Fritters
25 Aug 2010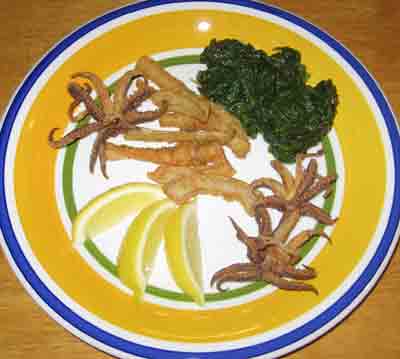 Greek cuisine is a treasure trove of delicately flavored appetizers and first courses; if you want to get the real taste of Greek cooking then you must learn how to eat Tiganita. Wondering what Tiganita is, and how does it taste, then do read on and get all your quandaries answered. 
Tiganita in Greek means deep fried, and Tiganita refers to all deep fried foods (somewhat similar to fritters, but definitely more flavorful). Kalamarakia Tiganita or fried calamari and Kolokythakia Tiganita or deep fried zucchini, are the 2 most popular Tiganita varieties, other Tiganita dishes include Tirakia Tiganita (fried cheese puffs), Mithia Tiganita (fried mussels), Silotakia Tiganita (fried chicken or calf liver), Avga Tiganita (fried eggs), and more.
Though a variety of Tiganita dishes are available, the method of prepare these recipes is similar in principle. The main ingredient is first dipped in a spiced batter and then deep fried in olive oil at 180°C. The dish is then served piping hot with lemon wedges, dips, or bread. 
Tiganita are typically served as appetizers or first course of a traditional Greek meal. Greek meals are less of a formal dining event and more about boisterous happy family gatherings; in keeping with these dining etiquettes, eating Tiganita should not be difficult at all. Depending on the size of the Tiganita, you may choose to eat them with hands or use a fork (a knife is usually not required). You might also want to squeeze some lemon or pour some sauce over the Tiganita before eating. But, I repeat, there are no hard and fast rules, all that the host will expect from you is to love the food you are eating and of course shower some compliments! 
To know more about Tiganita recipes and other interesting facts about Greek cuisine do follow this ifood.tv link. 
Image credits: mamastaverna.com, paradiseaegina.com
How To Eat Tiganita - Greek Style Fritters