How to Eat Kaeng Khiao Wan
25 Aug 2010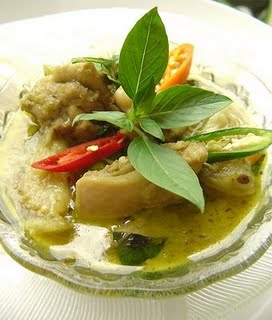 Thai cooking is not just an art in itself. It is also a reminder of the rich culture and tradition of Thailand. Today, in this blog I am going to talk about a special Thai dish called Kaeng Khiao Wan. I will tell you all about this exclusive non-vegetarian dish of Thailand and will also let out some special tips on how to eat Kaeng Khiao Wan in various ways. So, read on and discover the secrets on how to eat Kaeng Khiao Wan. 
Discovering Kaeng Khiao Wan
Kaeng Khiao Wan is a special green chicken curry which is popularly eaten by the people of Thailand. I am sure, you will love it too. When you will be served this green curry of chicken, you will get a nice fragrance of fresh herbs and leaves filling your nose. I wouldn't say this dish is very spicy, as there are several Thai dishes which are much spicier than this and this isn't too spicy in that regard. In the Thai sense of the term, you will find Kaeng Khiao Wan moderately spicy. While eating Kaeng Khiao Wan, you will discover oil floating on the surface of the curry's gravy. The green color of the curry is contributed by the green chilies and fresh green peppercorns. You will feel that even when the curry is predominantly salty; it has a mild sweet taste. The sweetness is contributed by the palm sugar. The creamy texture is added by the coconut milk and the kaffir lime leaves, lime juice and lime rind lend a welcoming sourness to the curry.
Tips on how to eat Kaeng Khiao Wan
The Thais love eating Kaeng Khiao Wan accompanied by rice spaghetti noodles. These noodles are called Khanom Jeen. But, there are people in Thailand who relish the dish more with rice. So, you can enjoy this side dish in both ways. Moreover, the food is excellent for both lunch and dinner and is quite filling too. Although Kaeng Khiao Wan is usually cooked with chicken, you can even get Kaeng Khiao Wan cooked with beef, pork or shrimps. And, if you have a soft corner for aubergines, you can also eat Kaeng Khiao Wan prepared with thin slices of this lovely vegetable.
Picture Source: firefly-thai.blogspot.com
How To Eat Kaeng Khiao Wan