How To Eat Pastitsio?
25 Aug 2010
Pastitsio, in very simple terms, is the Greek version of "Pasta". However, it offers a much greater degree of satisfaction in terms of taste and flavors and hence, knowing how to eat Pastitsio is worth the effort.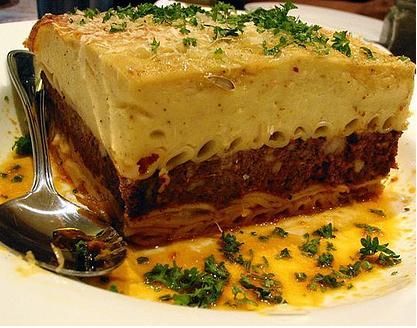 The dish comes from the Italian tradition of "pasticcio" which literally means a "mess" or a "scramble". The Greek form of Pastitsio is more like a dish of baked pasta including meat sauce as well as a custard or béchamel sauce and offers tastes and flavors that are much different from the original Italian pastas.
Pastitsio is served in front of you on a plate and eating Pastitsio becomes easy once you know what it is made up of or how it is cooked. The traditional Greek version of Pastitsio has a bottom layer of bucatini, with cheese and eggs as a binder. The middle layer consists of ground meat (beef or lamb), tomatoes and spices like allspice, cinnamon and nutmeg. This is then topped with a layer of béchamel or Mornay sauce (béchamel with cheese). Thus, Pastitsio alternates between layers of pastas and meat, along with cheese and eggs and as such, is quite a filling dish. It is also, at times, sprinkled with cheese or bread crumbs on top, which give a richer and crunchier crust. Baked golden in an oven, the crunchy layer on top adds to the whole joy of eating Pastitsio.
Pastitsio is normally served as individual meals. The garnishing is quite simple – a touch of a single rosemary sprig and a single piece of roasted tomato are enough to do all the wonders. Served on a plate, you need to use your fork to eat this delicious authentic Greek dish.
Most often than not, a whole plate of Pastitsio is quite heavy for one person to have and hence, is mostly eaten as a single-dish lunch or dinner. The tower of baked pasta is cut into half when served and is complemented with some salads. The salad not only acts as a taste-cleanser, it also lightens things up and fills you up in a healthy way without making you feel too stuffed. In Cyprus, it is an essential dish for the Easter and is served along with spit roasted meat.
Pastitsio is thus a gorgeous, hearty and well-spiced casserole, kissed with cheese and other spices and the great taste that it offers is surely going to mesmerize you.
Photo Courtesy: howaboutsomegreektonight.com
How To Eat Pastitsio?