How To Eat Deleh Mehshi?
25 Aug 2010
Lebanese cuisine represents all the different aspects of Mediterranean diet and the best way to experience this is by knowing how to eat Deleh Mehshi. Fruits, vegetables, sea food and poultry occupy the center stage of Lebanese cuisine. Red meat is sparingly used and even when eaten, lamb gets higher preference than any other form of red meat. Deleh Mehshi is one such lamb dish that is highly popular across the country.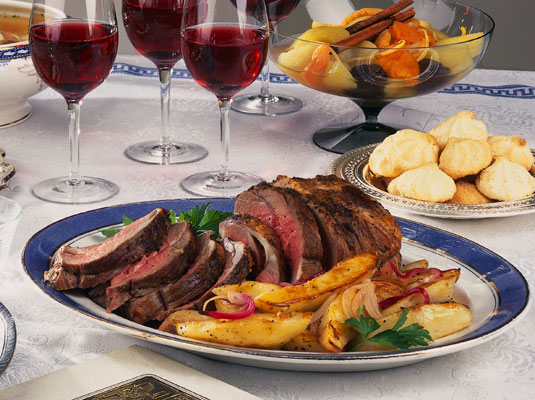 Deleh Mehshi is basically lamb rib cage stuffed with delicious ingredients. You can use your creativity for the stuffing. You can stuff the lamb with seasonal vegetables or even with minced meat. Garlic and olive oil are two important ingredients of Lebanese cuisine and you can see the presence of these two ingredients amply in Deleh Mehshi as well. Some may opine that Deleh Mehshi is best cooked in butter. However, butter is rarely used in Lebanese cuisine and hence, olive oil is the natural choice for cooking Deleh Mehshi. Herbs and spices also form an important part of this dish and add distinctive flavors to this traditional Lebanese recipe.
A typical Lebanese dish is almost incomplete without breads and Deleh Mehshi is no exception. Bread in any form – be it the flat Syrian bread or the hand made Pita bread or simply the fried bread – is a must while eating Deleh Mehshi. Deleh Mehshi is more on the drier side and hence, rice is never served with this dish.
Drinks are also an integral part of Lebanese cuisine. Eating Deleh Mehshi is always complemented by drinking different beverages. Deleh Mehshi is most commonly served with Lebanese wine. However, other beverages like the Almaza beer, Arak (local Lebanese alcoholic drink), Aryan (a yoghurt-based drink), etc also go well with Deleh Mehshi. The great taste that the slow-cooked meat offers makes this classic Lebanese main course a supreme meal.
Lebanese cuisine's appeal lies in its simplicity. Non-oily, non-fatty, loaded with the goodness of vegetables and rich in varied flavors, the reasons to try Lebanese food are numerous. Deleh Mehshi is just one of the dishes from the kitchen of this country that everyone is surely going to love.
Photo Courtesy: media.wiley.com
How To Eat Deleh Mehshi?