How to Eat Sarim
20 Aug 2010
No trip to Thailand is ever complete without sampling its wide variety of desserts and no Thai Dessert tasting is ever complete without discovering how to eat Sarim. Sarim is a beautiful dessert prepared by the people of Thailand. Yes, I mentioned the word 'beautiful' because, this is one of those delicacies which you will love to admire with your eyes for some full five minutes before you ultimately decide to take a bite and discover how it actually tastes like! So, whether or not you are visiting Thailand in the near future, it will pay off every bit to discover how to eat Sarim. This is because; this awesome looking and yummy tasting dessert is reason enough to make you feel like visiting this coastal destination. So, what are you waiting for? Read ahead and discover how to eat Sarim –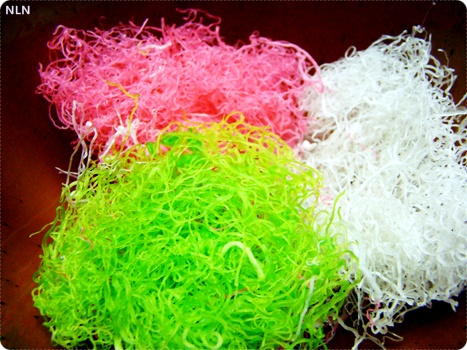 Eating Sarim
You will find sarim in any local Thai sweet shop. Sometimes, the street food stalls of Thailand also sell sweets and desserts and if you look carefully, it would not be hard for you to get a platter of this chilled dessert for yourself from one of these stalls. When you order Sarim in a Thai sweet shop or a restaurant, you will be answered with a platter of colorful vermicelli. Usually these vermicelli threads are pink, green, blue and white in color. These vermicelli strands are sometimes made from mung bean flour, but many a times, Sarim vermicelli threads are also made of chewy Thai rice flour. The platter looks colorful and inviting with its differently colored vermicelli strands, ice cream and coconut cream or milk. You can actually feel the smooth texture of the chewy vermicelli that simply melts into your mouth and then of course, there is the ice cream and the coconut cream to make the experience of eating Sarim truly divine. This is one dessert which is simply hard to resist, especially when you are out on a sunny afternoon!
Tips on how to eat Sarim
You can eat Sarim just like the way you relish a frozen dessert, like a simple ice cream. Traditionally, the dessert is served after meals during lunch or dinner. Sometimes, Sarim is served in a slightly different way and that is with crushed ice and coconut milk. You will love this simple assortment as well, besides its ice cream version. The sweet and creamy texture of the coconut milk will acquaint you with a unique taste you haven't tasted anytime before. So, try out this version of Sarim too! Another popular way of eating Sarim is in combination with crushed ice, coconut milk, sweetened lotus root, black sticky rice, sweetened taro, melon, chestnuts and red bean. This dish is called Nam Kang Sai.
Picture Source: bloggang.com
How To Eat Sarim