How To Eat Branzino Al Sale

20 Aug 2010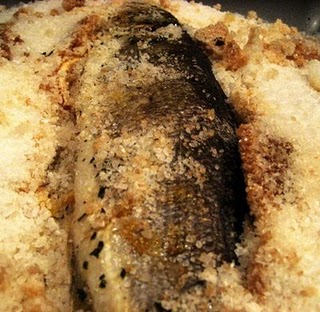 If your kids are not fond of fish meals – you should teach them how to eat branzino al sale because this is one of those fishes which does not have too many bones. There are many advantages of having this meal – you get the nutrients from a fish and it is a great change from too much spicy food which you usually have on an everyday basis. It is a very tasty Italian fish meal which is now the most popular food among the tourists.
Eating branzino al sale is common – you do not have to wait for any special time of the year or occasion to have this food. It can be your everyday item and you can choose to eat it in any way you feel like. A lot of variations are usually brought in this fish which brings a difference in its taste and flavor.
Different countries of the world have developed their own version of the food to cater to the taste of the local people and meet their demands. Chinese restaurants serve branzino al sale in their own style. You can eat the fish in its Chinese sauce made with soy sauce, chili sauce and vinegar. Thus, Chinese food lovers get their own flavor and taste.
Here are some ways in which you can eat branzino al sale.
• You have the choice to eat a whole big fish or a whole small fish.
• If you feel a whole fish is too much for you, you can even get it sliced when you are having it in your favorite restaurant.
• You should always eat branzino al sale hot. The fish does not taste good when it cools down. So…eat it as soon as it is prepared and served.
• Normally this dish is not eaten with too many spices – but still if you are a lover of spicy food, you can eat it with your own variation of spices. You can include ginger, garlic, pepper, thyme as well as parsley.
• This dish is eaten in its baked form if you choose to have it in its original style.
• It is mainly eaten as a light lunch meal.

• You can eat it with steamed rice. Lemon flavored rice also tastes excellent with branzino al sale.
• If you are eating the fish with its spicy sauce you can eat it with noodles…otherwise noodles is usually not recommended.
• If you wish to have the fish only, you can eat it by squeezing some fresh lemon juice. It gives a great flavor and tanginess to the fish.
• If you really wish to enjoy the fish – do not worry much about its bones. These bones are small and soft and shouldn't be a concern for you.
Image courtesy: southwarknews; lafamevienecucinando
How To Eat Branzino Al Sale