How To Eat Chok?
19 Aug 2010
To know how to eat chok may have seemed to be confusing earlier, but not anymore after you know a few basic tips. Chok is nothing but rice porridge, a popular Thai food. Easy to make and good to taste, this dish is a full-fledged meal in itself, with lots of vegetables, chicken, pork and shrimp.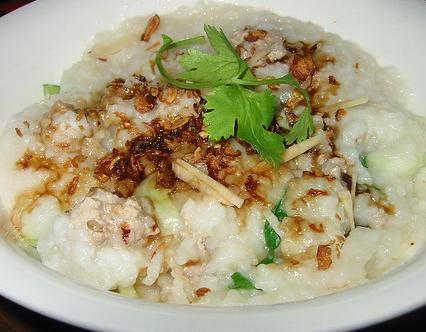 How is Chok Served:
Chok is usually served as a hot, simmering semi-liquid dish. Normally, once the whole chok is cooked well, scoops of the cooked rice porridge is served, ensuring that everyone gets an equal share of the meats, shrimps and vegetables. Once served, eggs are cracked into the hot porridge and the heat of the hot liquid almost half-boils the eggs. This is a unique feature of Chok, as for all other dishes (like soups and broths) the eggs are cracked before turning the heat off.
Serving Accessories:
Though the basic ingredient is rice, Chok is never served on a plate. It is always served on a soup bowl, for the hot semi-liquid can be most easily eaten from this. It is eaten with the help of soup spoons. For eating chok, the more westernized soup spoons made of silver or steel have given way to the more traditional ceramic soup spoons.
 
Sauces and Garnishing:
For any Thai food, sauces and garnishes form an integral part. Thai food mainly works on the concept of serving lightly cooked food, which are rich in aroma and flavors. The key to the aromatic store is the sauces and seasonings used in cooking or serving chok. While much of the aroma comes from the Jasmine rice that is used to make chok and the sesame oil used to cook it, a lot more comes from the use of flavoring agents like the soy sauce, oyster sauce and pepper.
A great dish, no matter how tasty it is, looks bland without garnishing. For garnishing chok, sprinkle some spring onions and shallots on top. You can also fry some chopped garlic and garnish the rice porridge with that. The fried garlic not only adds to the color and look of the chok, but also to the flavor of the dish to a great extent. You can also add some fried fritters on Chok to give it a crunchy feel. However, never garnish your chok with coriander. The strong flavor of corianders overpowers the intrinsic flavors of this Thai dish as a result of which, you lose the original flavors of this authentic Thai food.
When to Eat:
With Chok, there is no specific time to eat it. You can eat it for your breakfast or club it with some delicious side dish and serve it during the lunch time. The hot, simmering bowl of good health is best eaten during the winters. The warm soup definitely makes you feel comfortable during the cold winters, which is why this is best suited for the winters. At the same time, winters offer a larger variety of vegetables available in the market and hence, make your chok taste better.
Thus, low in oil content, rich in protein and carbohydrates, chok is a Thai food that unites health with taste. So, just keep these basic points in mind and enjoy eating chok.
Photo Courtesy: farm1.static.flickr.com
How To Eat Chok?